By Praveen Kumar and Navdeep Sood, Technical Leaders in Cisco's Mass Infrastructure Group (MIG)
With Krystal Cheng
We are Praveen Kumar and Navdeep Sood, technical leaders in the Mass Infrastructure Group (MIG) who share a passion for innovating.
We always remember all the important dates in our lives: Our children's birthdays, siblings' birthdays, anniversaries, and holidays.
In our case, we have one more date to add to the list. Our "Innoversary": April 4, 2017.
2,016 days — five years, six months, and seven days.
That's how long we have been inventing at Cisco. And new ideas continue to constantly change the trajectory of our company.
We chose to be the change.
We've both worked in the telecom industry for many years: Praveen for 15 years and Navdeep for 18.
Our careers span from product development to product testing to customer escalations.
In all these years of hands-on work, we saw hundreds of opportunities to address product gaps and technology limitations. While we have indirectly helped fix these problems, usually someone else invented the solution.
One day, we decided to do it ourselves.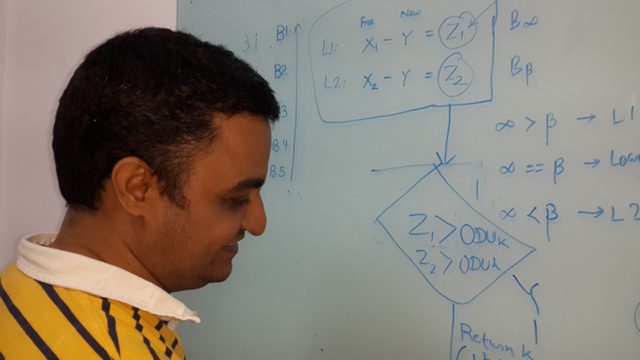 Navdeep discusses an idea with the team.
So we wrote our first patent.
As a part of the MIG Customer Escalation and Engineering organization, we work with customers to help solve their problems.
After one customer incident, we started to visualize an invention involving a cross-technology solution to help them manage their network even better.
We brought the idea to paper. We studied the subject more deeply by reading various standards, requests for comments, and internal materials.
It took us six months to come up with an invention proposal that we submitted for patent consideration. We are proud that our first approved patent is that very invention proposal.
That was over five years ago.
Since then, we've submitted over 100 patents internally in a wide array of areas, such as optical, routing and switching, storage, data center, 5G, green cloud computing, collaboration, machine learning, software-defined networking, segment routing, generalized multi-protocol label switching, optical transport networks, and observability.
Out of all of them, three are approved patents at the United States Patent and Trademark Office. And 11 are defensive publications — patents for inventions that may be used internally or within Cisco products.
The cross-technology inventions are a result of successful collaborations with our peers in different technology fields.
July 20, 2018: Praveen and Navdeep signed the NDA for their first formal patent with the United States Patent and Trademark Office at Cisco India.
To innovate, you need a huge support system.
This wouldn't have been possible without our management teams.
Software Engineering Directors Arun Habbu and Inderpal Pandher encourage us to keep innovating to the best of our abilities, while software engineering leaders Udaya Krishnamurthy and Danny Dharamraj remind us to invent with the customer in mind.
Finally, the Cisco patent committees have been instrumental to our journey, and took the time to review all our innovation submissions. They also provided the best comments and guidance.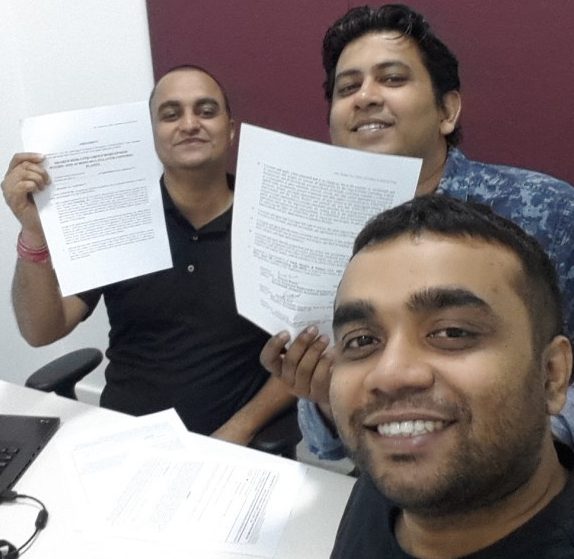 July 20, 2018: Praveen and Navdeep signed the NDA for their first formal patent with the United States Patent and Trademark Office at Cisco India.
When it comes to inventing, we can't help but think of author Stephen King.
He famously said: "You can, you should, and, if you're brave enough to start, you will."
The main mantra for budding inventors who are hesitant about creating that first write-up is: Start today.
Here are just six steps to become an inventor.
Find a quiet space to write down the first problem that comes to mind.
Break the problem down into smaller parts.
Think up solutions for each part.
Piece these solutions together for a whole invention write-up.
Read through the write-up. Reference other technical sources while keeping originality in mind.
Protect your idea by submitting it for a patent.
Best of luck to first-time inventors. We encourage you to be brave enough to start innovating.
You can, you should, and you will.
###
Related content: