"Retail's big show", the NRF (National Retail Federation) 2019 conference, wrapped up this week in New York City. The retail conference brought together community members and exhibitors from around the world to showcase the latest innovations in shopping. This year's biggest topics focused on creating impact from an operational aspect, a community aspect, a talent aspect, and more.
The biggest retail discussions right now
The conference gave Cisco the chance to create a 'day-in-the-life' of a consumer and shopper that included some of their latest retail innovations. Speakers included DevNet co-founder, SVP and Chief Technology Officer Susie Wee who spoke about how to utilize data to create a more holistic view of a customer's journey. This visibility allows retailers to make the right business decisions when the time is right.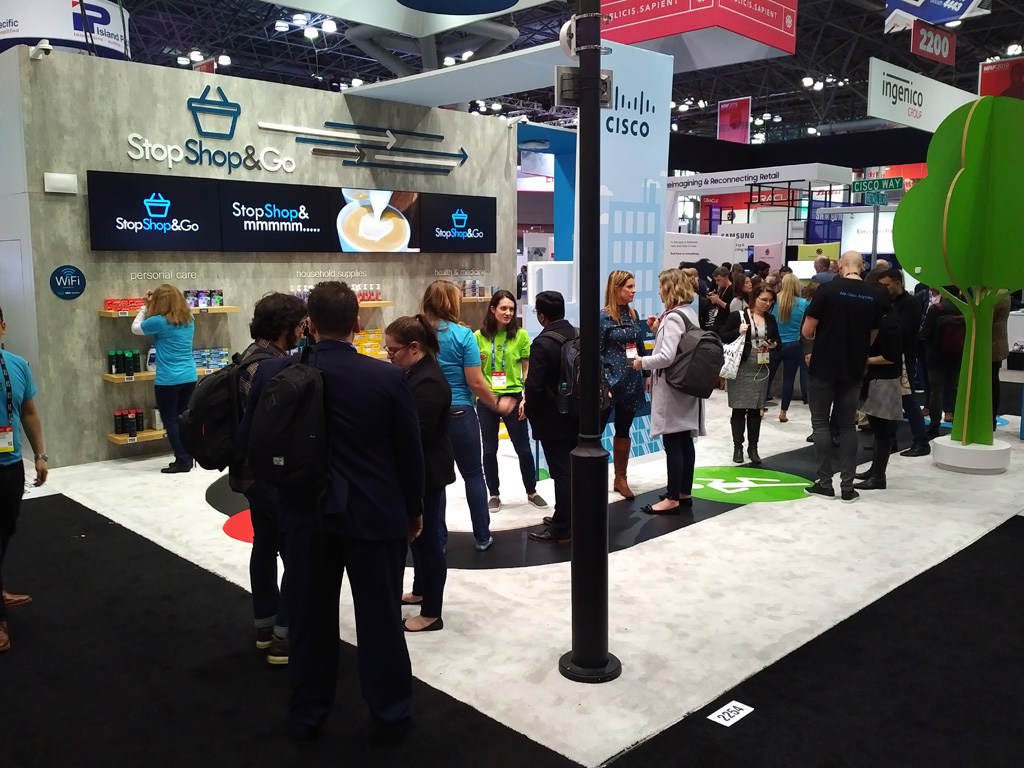 Senior Marketing Manager of Global SP and Enterprise for Cisco Meraki Imran Idrees held a fireside chat to discuss how technology helps the growth of the brick-and-mortar store. By using new digital technologies like mobile apps and cloud solutions, certain innovative shops are creating better shopping experiences for their customers.
Cisco technology makes it possible for retail stores to go through a digital transformation. Cisco's "Day in the life" booth allows retailers to experience everything from how a customer starts their shopping at home, what happens once they're at a store, to digital signage, augmented reality, shopper analytics and a scan-and-go checkout.
The solutions
The power of Cisco Vision, AppDynamics, and Tetration creates dynamic digital signage that hang above shelves and tells shoppers related content about specific products.
Mobile self-checkout, or "scan-and-go", is powered by Apple and Mishipay & Cisco's CMX, AppDymamics, and Tetration. The solution allows shoppers to conveniently scan their product, pay, and walk out—all through the ease of a mobile device.
Knowing the location of customers and associates in a shop has a number of benefits. With Store Advise & Cisco's Meraki, Cisco DNA Spaces, AppDynamics, and Tetration, you can guide customers to the products they want or allow associates to find customers and deliver assistance. This was demonstrated by the help of the Asynchrony team.
Cisco retail solutions are also used in-house at the company's own Connected Cisco Store in their San Jose headquarters. Read all about how they use the shop as a living lab for retail technology here.
###
We welcome the re-use, republication, and distribution of "The Network" content. Please credit us with the following information: Used with the permission of http://thenetwork.cisco.com/.