You've likely shopped at their stores or bought their products at a department store: PVH is the company that owns brands like Calvin Klein, TOMMY HILFIGER, Van Heusen, IZOD, ARROW, Warner's, Olga, Geoffrey Beene and True&Co.
In 2019, PVH had a massive $9.9 billion in revenue, a significant percentage of which is direct-to-consumer retail. With multitudes of physical locations and almost 40,000 associates across approximately 40 countries, the company needed to quickly and smoothly supercharge its e-commerce operations when the COVID pandemic resulted in the closure of its retail stores and those of its wholesale customers around the world in March 2020.
Investing for the future
In 2017, PVH experienced a mammoth snowstorm that caused everyone in the New York and New Jersey area to work from home. As Eileen Mahoney, EVP and CIO for PVH says, talking network infrastructure was a difficult but necessary conversation to have during that time. Making the decision to invest in Cisco technology—networks, collaboration tools, security— was a proactive strategy that proved essential for the future.
"We made the investment to install Meraki access points," says Mahoney, "Being able to easily build that network with security and segmentation allowed us to offer guest services, Wi-Fi, and it also allowed us to build out interactive technology so that design, marketing and merchandising associates could see what an outfit would look like. With that, we were able to give our teams the ability to change images instantaneously."
The Cisco technology that PVH utilized extended beyond just physical locations. Collaboration technology like Webex allowed associates to communicate with each other securely, RFID tags within the brick and mortar stores allowed PVH to know exactly where their inventory was sitting. The company had digitized their entire product lifecycle process, from product reviews with the design team, visual assortment, and fulfillment options, to consumer experience. So, when the majority of people shifted to remote work in March 2020, PVH was ready. The foundation was set to support PVH in delivering a quick route to market, and when the transition came, they were able to move quickly.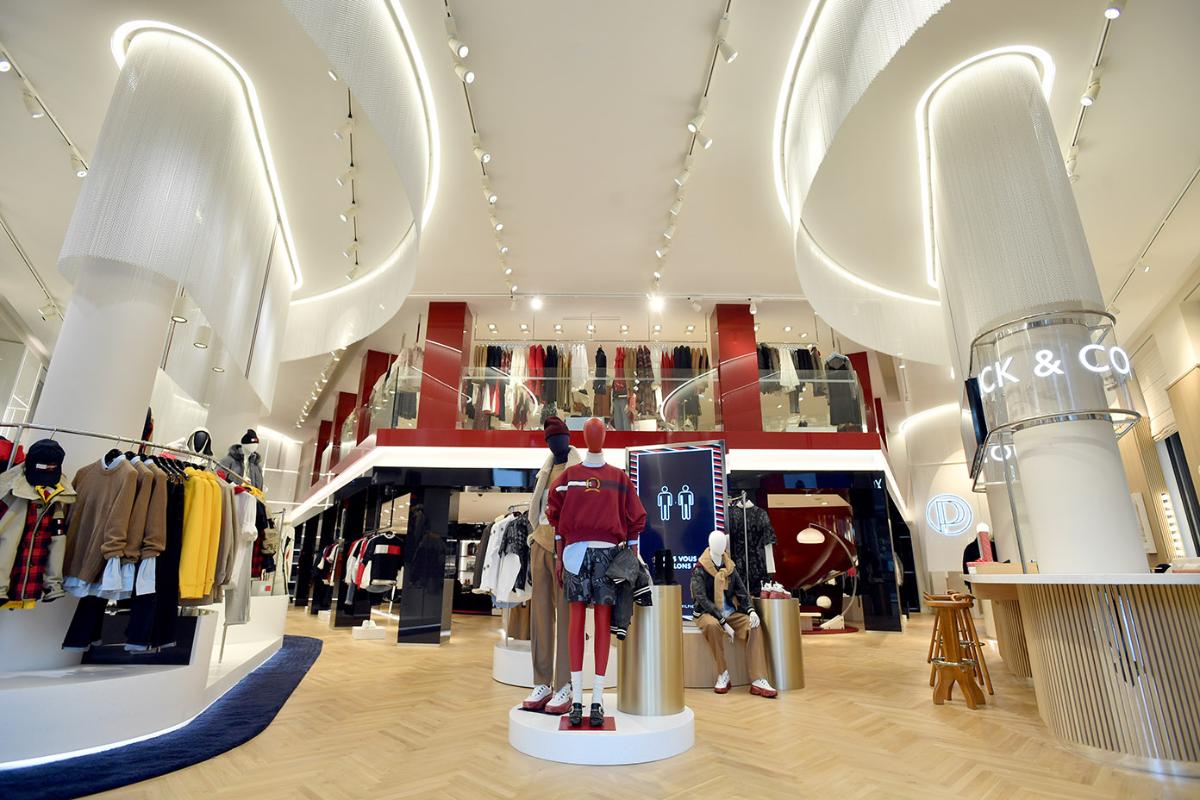 Overnight, the PVH team was seeing unmatched demands on their e-commerce sites. Mahoney and her team looked to see where they had visibility of inventory and then made the decision to move it to the channel where consumers were going. With their Cisco tech investments, they were able to present the information to business partners, quickly move inventory, fulfill from their warehouses, and give the consumers exactly what they wanted.
"Fundamental networking capability is ultimately what enabled agility for PVH at an enterprise scale," says Amit Chetal, Cisco's America's Retail Lead, "A single pane of glass to monitor the network, and integrated retail systems like POS, CRM, supplier collaboration, and easier management for support teams. PVH saw the vision that digital can be a differentiator for their brands and customers. It's evident with their success, when you look at all their investments, digital has been the differentiators."
Internal and external security is key
Enabling remote work for PVH's almost 10,000 office associates associates was a success due to the right collaboration and security tools. When PVH suddenly had to fully enable remote workers from thousands of site locations, Mahoney and her team immediately thought of the security aspect.
"The first concern that came to mind was security," says Mahoney, "Keeping our network protected with people working remotely, making sure our retail system data and consumer financial data were secure. Cisco Webex and Jabber were great for collaboration, but deploying VPN overnight provided that secure access remotely. We were able to go from 2,230 Webex users to 10,000 in the blink of an eye."
Security is crucial for associates to work quickly and deliver on what the company needed. When PVH digitized its entire lifecycle business model, being on a secure network made it so that associates could maintain ownership of designs. It also prevented internal systems from being compromised. Email security appliances, firewalls, Cisco AnyConnect, and Cisco Umbrella helped to ensure that security.
On the consumer side, transaction security needed to be part of the process, as well. PVH saw April 2020 as some of their top sales days, even breaking previous Black Friday records. This proved to be a true test of their network infrastructure, as consumer demands were at an all-time high and online transactions needed to be made securely.
Collaborating like never before
PVH, like many other companies, may never be the same. Mahoney states that this time of reimagining the business allowed the company to use the right technology to transform their operating model.
"We are doing some things that we wouldn't have done if we were in the office," says Mahoney, "Having global calls to connect everybody together, it's really enabling us to rethink how we'll operate as a company even when we come out of the pandemic. It has really shown that with the right tools and technology, your operating model can change and change for the better. It's allowed collaborations that we probably wouldn't have had if we weren't able to transition overnight."
Tools like Meraki Wi-Fi, Cisco security, and Webex have helped PVH create amazing experiences for both their associates and their consumers. Starting with foundational infrastructure and layering capabilities on top allowed the retail corporation to pivot exactly when they needed to.
###
We welcome the re-use, republication, and distribution of "The Network" content. Please credit us with the following information: Used with the permission of http://thenetwork.cisco.com/.