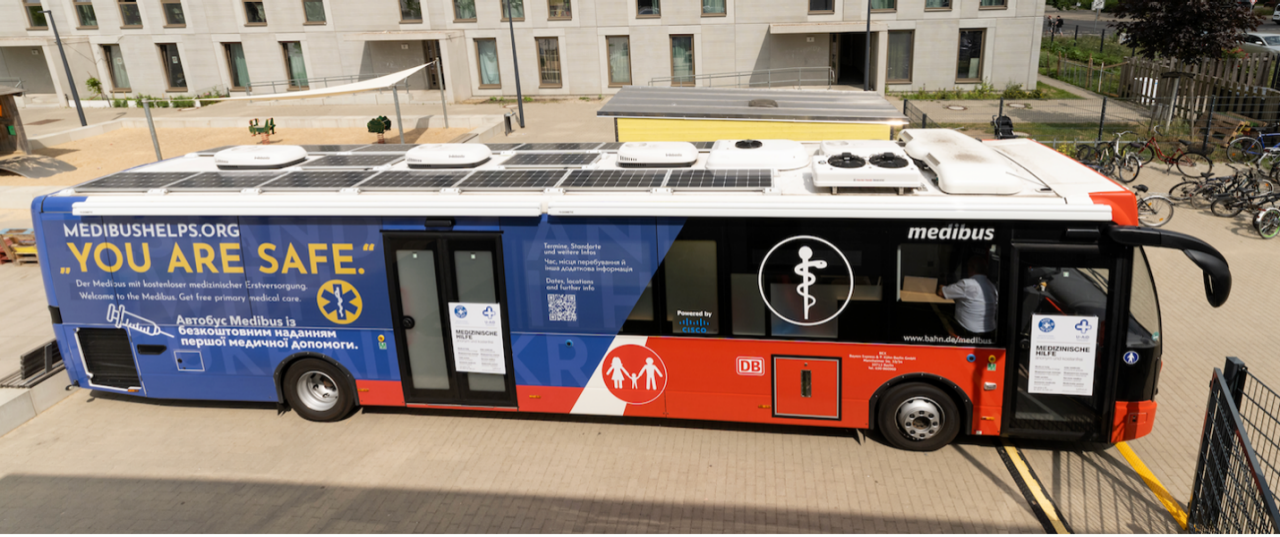 When Russian forces attacked Ukraine earlier this year, it sparked a refugee crisis that shocked the world. But as millions fled to neighboring countries, Cisco was ready.
One solution was Cisco's Medibus program, built in partnership with Deutsche Bahn, Germany's largest public transportation provider. A rolling health-care center equipped with state-of-the-art medical and networking technologies, Medibus has proven an invaluable resource in Poland and Germany by helping refugees adjust, treating all manner of first-aid cases, and preventing outbreaks of COVID-19 and other illnesses.
"When Russia invaded Ukraine, I sat at home watching TV feeling completely helpless," said Guy Diedrich, Cisco's SVP and global innovation officer. "And then it struck me that we have this wonderful program called Medibus. We immediately started making plans to send them to the front lines of the refugee crisis."
Diedrich also oversees Cisco's Country Digital Acceleration (CDA) program, which worked with Deutsche Bahn to create the first-generation Medibus in 2016.
As Uwe Peter, vice president and general manager of Cisco Germany, explained, the buses were originally designed to close medical-care gaps in rural Germany.
"The Medibus was initially deployed in the state of Hesse in Germany," Peters said, "which is particularly impacted by an ageing population and scarcity of practitioners. It stops in six villages and is able to accommodate 35 patients a day, 30 percent of whom are older than 76."
From elder care to a refugee crisis
With its flexibility and powerful technology, the Medibus proved its mettle a few years later, as refugees from the Syrian civil war arrived in Germany.
"When Syrian refugees started flowing into Germany," Diedrich explained, "there was no way to manage them and process them. So, together with Deutsche Bahn, we were able to process the refugees, to give them health screenings, to connect them with relatives, and to connect them with social services. It worked beautifully."
Since then, the buses have continued to serve rural Germany, while honing technologies, practices, and skill sets. So, when the Ukraine crisis hit, four of the seven buses were quickly dispatched to large German urban centers, with drivers and mechanical support from Deutsche Bahn. Operations quickly started in the main refugee arrival points in Cologne, Berlin, and Hamburg, with a particular focus on helping hundreds of newly displaced orphans in Berlin.
The approximately one million Ukrainian refugees in Germany have limited access to the country's health system – and demand for the Medibus is surging as winter arrives and temperatures drop. Moreover, state and local resources are stretched thin, and medical practices are struggling to keep up with their regular patient load with the addition of war and other refugees.
"It took only four weeks from our internal decision to get the Medibus fleet on the street," Peter recalled. "Our goal was to make the response as fast and unbureaucratic as possible and bring the help onsite, exactly where it was needed."
That response was so fast that as of last month, the buses had driven more than 8,500 kilometers to 400 locations, enabled more than 10,000 treatments, and been supported by 170 hours of video translations, 88 percent of which were translated in real time — all made possible by a vehicle that is a marvel of technology.
Watch the video below to find out more and hear from some of the amazing individuals behind this program:
"The Medibus is now in its third generation," said Mirko Bass, Cisco's business development manager for EMEA. "And there is nothing quite like it anywhere on the planet. Each bus has two patient rooms, a check-in area, a laboratory, and controlled climate conditions, along with its own fully digital networks. That enables the medical staff to ad-hoc bridge in specialists by Webex video, whether in dermatology, urology, whatever is needed. And there are medical translators available in 50 languages just at a press of a button."
Two cooling units are also integrated in the laboratory area, which can even cool samples or vaccines to double-digit minus temperatures. The power supply is ensured by 16 solar cells on the roof of the bus, so that the electrical devices are operated emission-free.
Medical professionals applaud the impact Medibus has had so far.
"It ensures fast, primary medical care," said Dr. Johannes Niessen, head of the Cologne health department, "and it provides vaccination and disease prevention for all ages of people."
The power of digital — and human — networking
The foundation of Medibus' success is a powerful, flexible, and secure networking foundation.
"The Medibus is a cross-architectural story demonstrating the power of networking," said Peter. "It combines mobility, security, and Webex collaboration, along with Internet of Things technologies to ensure safe operations and bus maintenance."
Beyond technology, the Medibus program underscores the power of partnerships — and the human spirit. Throughout the program, volunteers, NGO's, doctors, pharmacists, and medical students, have stepped forth to help. And organizations have cut costs and bureaucratic speed bumps along the way.
"We've seen huge solidarity," Bass said. "I love to call it human resilience because at the end of the day it's humans helping humans. And I'm so proud that we, as Cisco, started that initiative."
Cisco is committed to helping refugees in any way it can. For example, Cisco's Networking Academy in Germany is also teaming with the ReDI School of Digital Integration to help refugees gain technology skills and certifications that will empower them to build new lives.
But Medibus will continue to provide that critical first step toward health and orientation in a new country, while continuing to integrate the newest innovations.
For Uwe Peter, that represents a leap forward in health care, while supporting Cisco's core purpose: powering an inclusive future for all.
"I believe Medibus has the power to revolutionize healthcare and change how and where people access services," he said. "Ultimately, it aligns with our purpose, because it helps those who need care the most."
For more information, including regularly updated operational schedules in four languages (including Ukrainian/Russian), click on www.medibushelps.org
###
Related content: