News Summary:
Cisco announced biggest partner program changes in over a decade to simplify and enhance the overall partner experience.
The "New Cisco Partner Program" reflects and rewards the variety of crucial roles partners play with customers.
Cisco also introduced new and simple Partner Experience Platform (PXP), a single gateway for partner tools and resources, making it easier to work with Cisco than ever before
Cisco Partner Summit Digital, October 28, 2020 – It's all about simplification and digital agility when it comes to partners and how they want to work with Cisco.
Today at Cisco's annual partner conference, Partner Summit Digital, the company announced the biggest changes to the partner program in over a decade by creating a new single, unified partner program that recognizes and rewards the roles that partners play with customers. Additionally, Cisco launched a new digital partner platform that will be a one-stop shop for anything a partner needs when working with Cisco.
"Transformation is accelerating now more than ever before and we need our programs and platforms to reflect how Cisco and our partners can best succeed together," said Oliver Tuszik, SVP, Global Partner Organization, Cisco. "These changes will deliver simplicity and allow Cisco and our partners to be more agile, relevant, and profitable. It's about being 'Future Ready' for anything that comes our way."
One Cisco Partner Program:
Over the next 12 to 18 months, Cisco will simplify its partner program structure. It will consolidate nearly a dozen of the separate partner programs into one single program. The New Cisco Partner Program will offer partners more opportunity to differentiate across the various aspects of their business from resell to managed services to developer and advisor practices with Cisco.
"2020 and the pandemic greatly accelerated the need for our partners to transform to deliver managed services and SaaS to lines of business, to develop applications and automation on top of Cisco platforms and to generate full customer value across the lifecycle, "said Marc Suplus, Vice President, Strategy, Planning and Programs. "We are taking a bold step to break down the siloes partners feel between our various partner programs that will give our partners more freedom to differentiate and transform across the dimensions of their Cisco business."
The New Cisco Partner Program is based on four key roles that Cisco sees partners playing: Integrator, Provider, Developer, and Advisor. Partners can choose to focus on one role, or all four—whatever makes the most sense for their business. Cisco's Gold brand remains the cornerstone of the new program while also enhancing the Premier and Select tiers to ensure partners have the degrees of freedom needed to differentiate with their customers. Current Cisco partners will not be asked to start over with this new program as it was designed to reflect and recognize their deep Cisco expertise and long-time partnership.
The New Cisco Partner Program
Supports partner agility by accommodating the various roles the partner is playing with their customer whether it be resale, managed services, developer or advisor. Cisco is not putting partners in a box or limiting their ability to showcase their unique value.
Increases relevance in the market by elevating roles beyond the traditional resale motion and allowing more ways to showcase their managed services, developer and advisor areas of expertise.
Positions partners for new opportunities to increase profitability shifting focus from the product lifecycle to recurring customer value. The Customer Experience Specialization is key due to the demand on recurring value throughout the customer lifecycle. It will count toward both an Integrator and Provider role and will also become a requirement for Gold Integrator status in late 2021.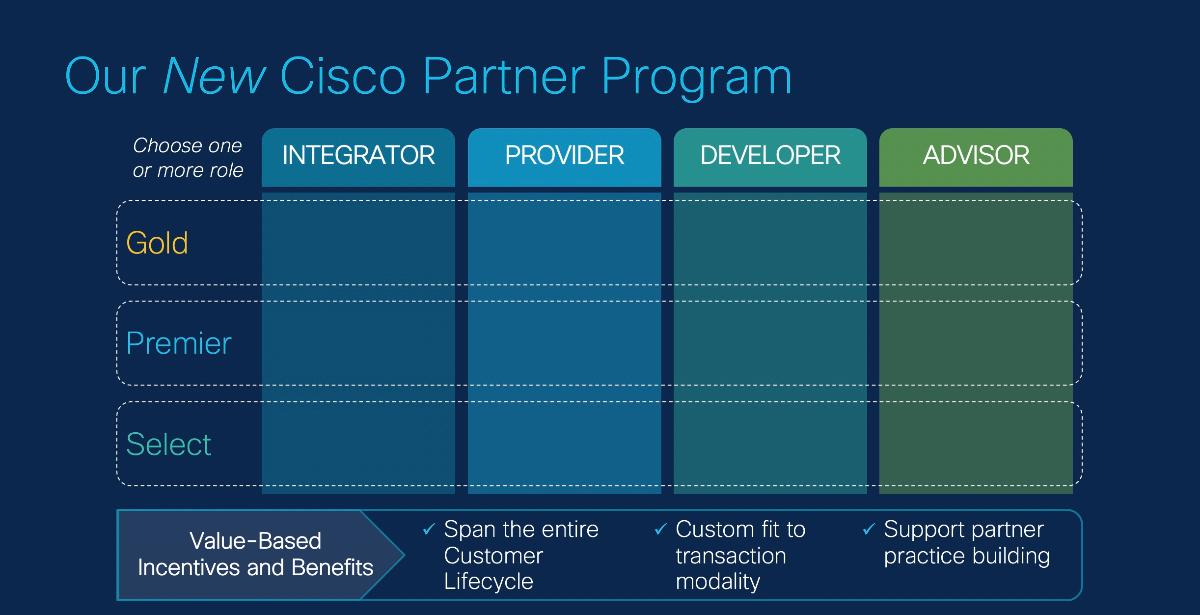 New Partner Experience Platform (PXP):
In addition to the partner program changes, Cisco is also launching the first digital partner platform that provides a single gateway to everything a partner needs when it comes to working with Cisco across the lifecycle. The Partner Experience Platform (PXP) delivers an improved experience and further enforces Cisco's partner first culture. Partners will be able to collaborate across a connected ecosystem, co-innovate and co-sell together with Cisco on one digital platform.
"We co-innovated and co-developed PXP with our partners, to deliver a future ready platform" said Jose van Dijk, Vice President, Operations and Partner Performance, Cisco. "Our focus is to reimagine the digital channel and to empower partners with digital agility across the entire partner lifecycle."
PXP will deliver benefits and value to our partners in the following ways:
Simplicity: PXP will bring together 100+ tools, applications and portals to a single digital platform making it easier for partners to navigate and be a one-stop shop for everything.
Productivity: The new platform will deliver efficiencies for partners, such as faster enrollment on programs and better ability to co-sell with Cisco.
Growth and profitability: PXP will deliver actionable insights for partners to drive new growth opportunities, optimize incentives better and monitor partner performance.
Future roadmap for 2021: Continued updates throughout the year will include benchmarking capabilities, faster onboarding and enrollment and a digital community for our partners to collaborate
Learn more about how PXP will help partners with the demo below.
Availability:
Partner program changes will be rolled out throughout FY'21 globally
The Partner Experience Platform (PXP) will be available for all global partners starting from November 30, 2020.
Additional Resources:
# # #
About Cisco
Cisco (NASDAQ: CSCO) is the worldwide leader in technology that powers the Internet. Cisco inspires new possibilities by reimagining your applications, securing your data, transforming your infrastructure, and empowering your teams for a global and inclusive future. Discover more on The Network and follow us on Twitter.
Cisco and the Cisco logo are trademarks or registered trademarks of Cisco and/or its affiliates in the U.S. and other countries. A listing of Cisco's trademarks can be found at www.cisco.com/go/trademarks. Third-party trademarks mentioned are the property of their respective owners. The use of the word partner does not imply a partnership relationship between Cisco and any other company.
Media Contacts
Lindsay Kniffin
+1 408 527 8404