By Rashimi Chaturvedi, Professional Services Consulting Engineer, India
With Krystal Cheng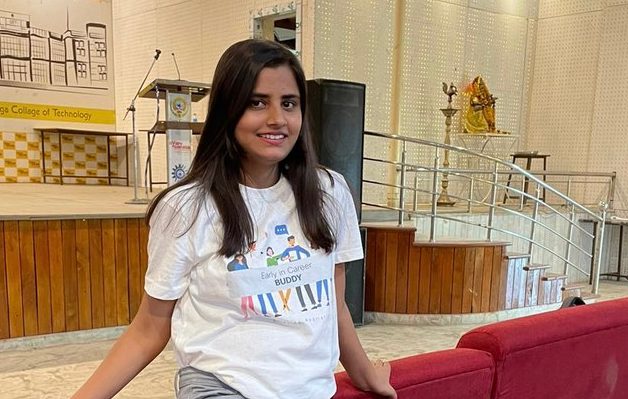 Rashmi at Gyan Ganga College of Technology.
Knowledge is a gift that increases by sharing.
This comes to mind when I think about my journey with Cisco Networking Academy. Not only has it helped me get my dream job at Cisco, it has also inspired me to help other students throughout India.
How it all started
I was born and raised in Jabalpur, Madhya Pradesh, India. I always dreamt of making an impact through education and my own learnings.
During my second year of my Bachelor of Engineering program at Gyan Ganga College of Technology, I was introduced to the amazing treasure, Networking Academy. My instructor enrolled me in the Introduction to Networking course.
I wasn't much of a tech enthusiast at the time, so I was ignorant of the wonders that would transpire in my life from taking the course.
With the guidance of my Networking Academy instructor, I immersed myself in the course. It fascinated me so much that I started a club in my college called Webpack, where I taught what I learned to my junior colleagues. I was amazed when about 200 people joined the club!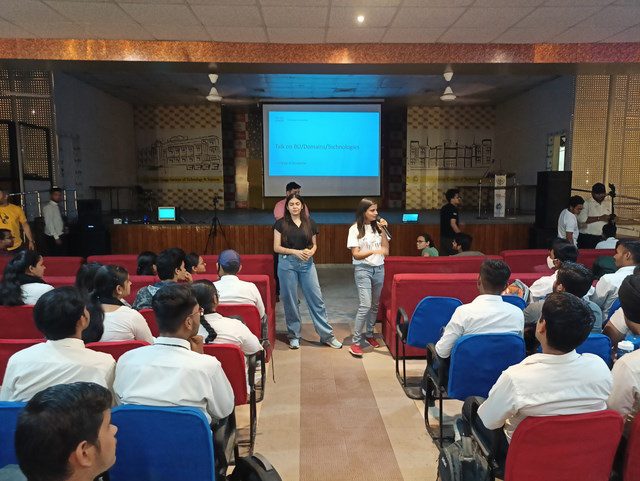 Rashmi shares her experience working at Cisco with Gyan Ganga College of Technology students in 2022.
I completed more courses, including Introduction to Cybersecurity, Introduction to DevNet, and Routing and Switching Essentials, which changed my life.
I became so confident with the networking concepts that I had learned that I was sure I would get placed in a company after graduating.
But Cisco was still something that I never even dreamt of.
Coming from a tier-three college in India, a ranking system many companies consider when placing graduates, I thought getting placed in a top tech company like Cisco would be difficult. But then I saw an opportunity through the Cisco Ideathon in 2020, allowing me to compete for an internship.
With the concepts I learned through various Networking Academy courses, I cleared each and every round of aptitude tests, idea submissions, and interviews. Finally, I achieved the unexpected: A six-month internship under the Customer Experience Enterprise team, which later became a full-time job at Cisco!
During this internship, every intern was trained in the Cisco Certified Network Associate (CCNA) and DevNet courses, which led us to achieve these two prestigious certifications.
I found it easy to take the exams and achieve the certifications because I had already completed relatable courses in Networking Academy during college.
I now work as a Professional Services Consulting Engineer at Cisco.
At Cisco, I've had the privilege to work with top industry experts while pursuing my passion for giving back to the student community by volunteering with Discover Cisco (formerly Cisco Resonance).
Discover Cisco is a program started by Engineering Director Ritesh Kapahi and led by the Emerging Talent Recruiting team in India. Its goal is to help students learn about Cisco's inclusive culture, our people, and our technologies.
Rashmi at a Cisco office.
I am continually inspired by Ritesh and his vision to uplift students. I work closely with the Student Experience Track and Cisco Campus Ambassadors across universities to help with educational and informative sessions.
I was determined to do more.
In October 2022, my team and I started a three-month-long virtual DevNet Bootcamp held every Saturday for two hours for Cisco Campus Ambassadors across India.
I had the honor of leading it with the help of Consulting Engineer Vishal Kumar and Business Development Manager Ishvinder Singh.
We had Customer Delivery Engineering Technical Leader Manoj Papisetty, an active DevNet enthusiast, come and teach the Networking Academy DevNet course to more than 160 Campus Ambassadors. Early in Career Buddies also came in to host the sessions and share their knowledge on DevNet, thus inspiring many learners.
We also requested all Campus Ambassadors to share their new DevNet experience at their universities by conducting similar sessions, and many of them eventually did.
They also received the Networking Academy DevNet certification, which was the cherry on top.
The success of this program and the wonderful feedback we've received from our learners have motivated us to do more bootcamps in even more courses. We are determined to help our future generation become more skilled and trained in their career paths!
No one can ever take away your knowledge.
Keep learning, shape your path to success, and share what you've learned to help others achieve their dreams.