Cloud-based apps and software as a service have driven a revolution in business capabilities. But it's come at a cost.
Whereas an organization's network was once under one roof, so to speak, apps and services are now hyper-distributed across multiple clouds and networks. So, identifying issues or optimizing performance is beyond the reach of many IT teams.
That's where ThousandEyes comes in. By shedding light on those far-flung blind spots spread across the internet, it provides IT teams, ISPs, and cloud providers with real-time insights that translate into better digital performance and customer experiences.
ThousandEyes delivers the technology enabling customers to see into the cloud and SaaS environments that they rely on so heavily. And the ThousandEyes Internet Intelligence team provides the research and insight that arms them with data-driven intelligence to navigate environments that sit beyond their control, yet are critical to delivering digital experiences.
We spoke with Angelique Medina, head of the ThousandEyes Internet Intelligence team, about the great value it provides to customers and its ever-expanding capabilities, especially since being acquired by Cisco.
Angelique Medina, head of Internet Intelligence for Cisco ThousandEyes.
Thank you for chatting with us today, Angelique! First off, maybe you could share your high-level description of ThousandEyes. Why is it important?
ThousandEyes enables customers to see cloud and internet networks as if they owned them. We know that customers are taking on significant digital transformation projects as they increasingly move to cloud, SaaS, SD-WAN, and hybrid work. But this shift means that they now rely on external networks and services that sit beyond their control. Yet these have a huge impact on if and how they can deliver critical digital experiences to customers and employees. This is a very different from traditional on-premises environments one, where IT teams were in control of the network or application and could easily test performance and availability.
So, ThousandEyes enables customers to see into these highly distributed networks, especially if a problem arises.
Yes, based on thousands of global vantage points throughout the internet, within cloud provider networks and company networks, our dataset is unmatched in measuring performance from the user to the application, and all of the networks in between. The ThousandEyes platform gathers cloud and internet intelligence to help customers quickly identify where an issue might be occurring, whether that's in an ISP, in the cloud provider, the application itself, or maybe even in the home office.
You work on the ThousandEyes Internet Intelligence team. What role does your team play?
In addition to gaining visibility into where something is broken, businesses need to know how their providers are performing. That's the role of the ThousandEyes Internet Intelligence team. We develop in-depth research reports to uncover and compare performance, for example for cloud providers, Internet service providers, or DNS services. And we publish these for free, for everyone to learn from — not just ThousandEyes customers. We also keep an eye on the services that businesses use every day, like Salesforce, Slack, or Microsoft Teams, and our team will publish a podcast, social media post or blog to help the general public understand if an issue is happening with the network delivering the application, or if it's the application itself. We often do this faster than the providers update their status pages. Finally, to keep everyone informed on the overall health of the internet, our team produces a bi-weekly podcast and blog called the Internet Report Pulse Update. It shares overall outage trends and discusses what we know about various application and network outages that we've detected over the prior two weeks. And if you're curious about the overall "health" of the internet at any moment, check out our real-time Internet Outages Map.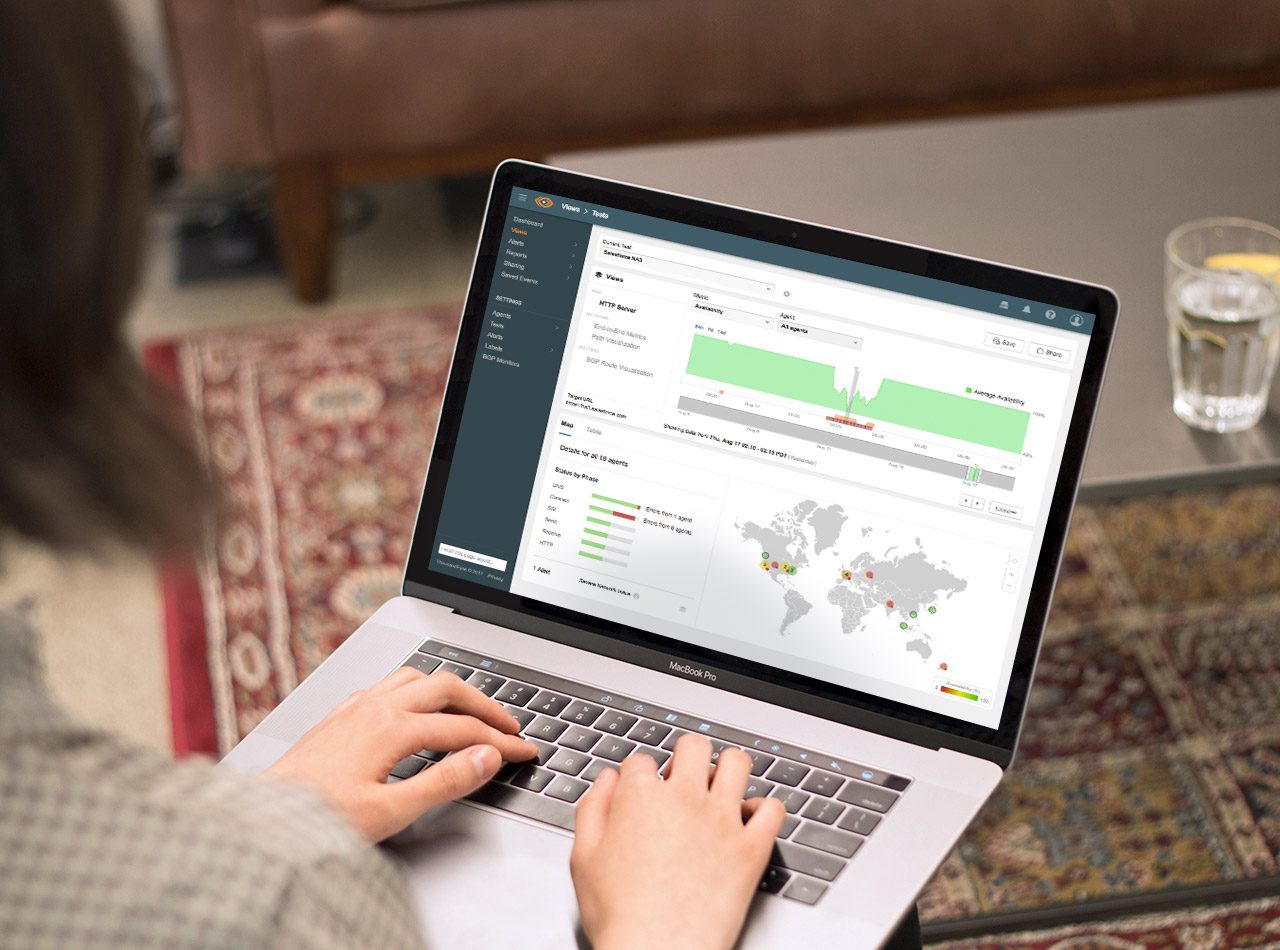 With its deep insights and intuitive, user-friendly interface, ThousandEyes greatly expands visibility into the performance of apps and services spread across the internet.
ThousandEyes recently released its Cloud Performance report, the first since 2019. What is the purpose of the report?

The overarching goal is to provide a blueprint for our customers to understand their cloud providers. Cloud provider architectures look very different; and depending on the workloads you're planning on hosting, where you're located, where your end customers are located, what your expectations or thresholds are on latency, etc., your cloud choices will differ. By understanding the specifics of cloud provider network behaviors and anomalies, businesses can plan for optimized performance as well as leverage that insight as a benchmark. They will also know what to ask of their cloud provider to ensure good performance and growth as needed.
Among its key findings, the report stressed that small outages can have a bigger impact than the larger headline-grabbing ones. How does ThousandEyes help in that regard?
As you say, when there are large outages, they're highly visible. And so, customers know that the cloud provider is focused on fixing the issue. With the smaller ones, maybe the cloud providers aren't even aware of it. But these frequent, smaller-scale performance and availability issues can be difficult to catch and identify, which, in turn, cause considerable impacts to user experience. We enable our customers to know when things are going wrong or are not optimal. Then they can share this data with their providers and get effective escalations.
Given this overall climate, what is unique about the capabilities of ThousandEyes?
What makes us unique, even beyond the scope of the insight and visibility into the internet that we have, is the ability to look at different aspects of performance. Having that multi-layer view, from application to infrastructure to the network layer, along with end-to-end network performance, network path, and internet routing, makes it incredibly powerful. And then correlating that information to how the application is performing and how it's impacting the user experience — that's something no other technology can do.
What has changed for ThousandEyes since the Cisco acquisition?
Knowing the challenges that customers were facing, Cisco acquired ThousandEyes to make cloud and internet intelligence seamless within the Cisco product portfolio. Being able to scale rapidly within Cisco has been a great benefit to our customers. Cisco obviously has a very deep networking platform. So, we've been able to vastly expand our vantage points to include things like edge routers and wireless access points. That enables our users to have visibility into many more different places. We've kept a strong pace of integrations to blend ThousandEyes intelligence with Cisco intelligence across a wide range of solutions. At the same time, coming into Cisco we had a very agile, dynamic culture. And we've been able to maintain that. So, it's really the best of both worlds.