For many, the holidays are the joyous time of the year when we gather in our homes to exchange gifts and cheer with our loved ones. Sadly, not everyone gets to visit home for Christmas. For many children in hospitals and their families, the reality is that sparking up holiday cheer can be a real challenge.
In response, programs like Connected Santa make it their mission lend a hand every year.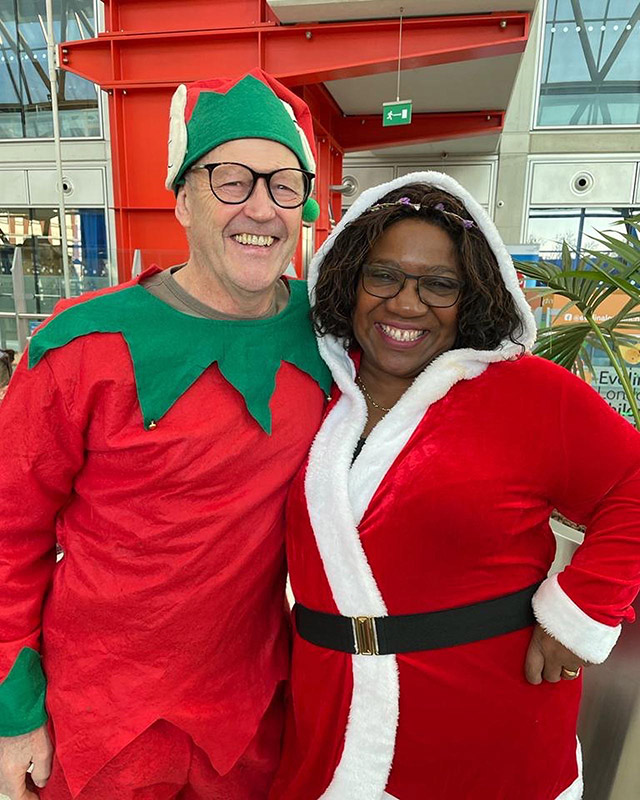 As part of our initiative to give back to communities, Cisco hosts Connected Santa, an employee-led holiday program that not only gives children a chance to meet with Santa and his trusty elves via WebEx, but also donates gifts to kids in hospitals around the globe.
Connected Santa is run virtually for health and safety reasons, as well as for scalability, and has a worldwide reach with chapters in the Americas, APJC, and EMEA.
One particular Connected Santa program is in Cisco UK, run by Sarah Winchester and Joanne Bugg. In the 13 years the program has run, Sarah's been involved for the past 12. She's also been a fellow Cisconian for 24 years.
"I love CSR activities and would love to do this sort of thing all day every day. I think it's important that we use our skills for what we're good at", Sarah said.
Like many great Christmas stories, Connected Santa has a people-first origin story.
"When the program first started, we used to have an external Santa come visit, but he became sick. So we had this crunch time at the end of the year where we had to find people to be Santa. We asked our Cisco employees, and they stepped up!"
This year, the Connected Santa program visited 19 hospitals across the UK, meeting nearly 500 children total with almost 400 Cisco volunteers involved.
Preparing for Santa Season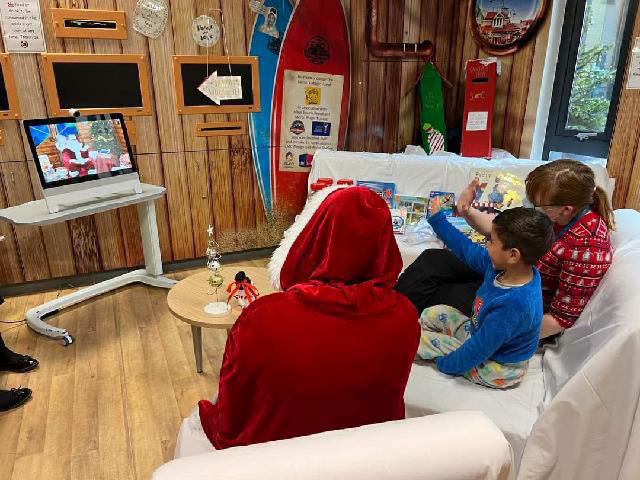 For Sarah and the Connected Santa team, the holiday season starts early, planning as soon as June 6th to begin procuring gifts, donations, and time for the holidays. Cisco Account Managers partner with hospitals to decide on the best dates and times, and begin working through the technical logistics.
Cisco Account Managers and the hospital IT teams play a huge part behind the magic.
"Cisco has to partner with IT at those hospitals. From there, Santa's visits could be done through a video unit that we wheel around, a TV with a camera device, or even a tablet," Sarah shared.
When the season arrives, using WebEx devices and WebEx Teams, the hospital staff and nurses help young children get connected with Santa, allowing them to chat with him all the way up in Santa's Grotto at the North Pole (aka the Cisco office located in Bedfont Lakes).
Making Santa's Visit Magic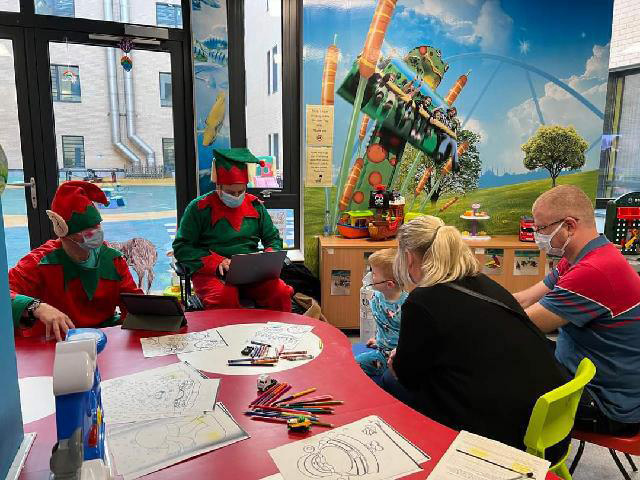 On the day of the event, Santa is secretly prepped in advance, thanks to a "whisper chat" between an Elf at the hospital and an off-camera person near Santa's Grotto using WebEx Teams. As a result, Santa magically knows each child's name, age, what they would like for Christmas, etc. before he gets to meet them.
"The elves get details on the kids sometimes over WebEx chat to the team at Santa's Grotto in Bedfont Lakes. Then they put that information on a PowerPoint slide on a big screen for Santa to see", Sarah shared.
Overall, Santa connects with each hospital for 2 to 3 hours via Webex video.
After each child gets to spend a special one-on-one moment with Santa through video chat, they also get to receive Christmas gifts for the holidays, thanks to donations from our Cisco employees.
The Connected Santa program is entirely volunteer-based as part of Cisco's CSR community efforts, but they also receive great support from the hospitals, who are also Cisco customers, in promoting these special moments every year.
"We leave it up to the hospitals to do a social media campaign for it because it's about them showing what they are doing, and they just happened to be using Cisco equipment to do it. They happen to be using WebEx."
Sarah Winchester and her Connected Santa team ran the program across various hospitals this year from December 5th through the 13th.
"I couldn't do it alone, so [Joanne Bugg] would come around to my place to help pack the donated gifts and we did it together. We would play Christmas music and have a giggle," Sarah said.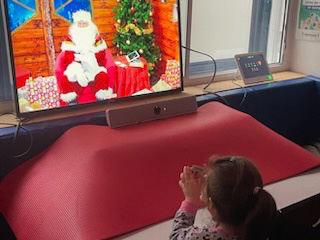 Sarah also mentioned that despite their limitations, when it came down to it, the impact of Connected Santa could be felt by the way the children smiled and laughed with Santa, sitting across from them virtually on a Webex screen.
"It's not about having the world's greatest Grotto but the experience the children have. I like that we actually get to say we do these activities and we're using our technology for good."