Speaking at Partner Summit 2021, Cisco's Julia Chen emphasized the sheer speed of change and technology adoption over the past 20 months — along with the toll that rising complexity is taking on many organizations.
"Complexity is a liability in today's agile environment," Chen, vice president of global partner transformation, said at a press and analyst conference. "Customers want to have a simplified way to adopt new technologies and reduce the amount of time and effort that they spend managing this multitude of stuff."
Simplicity and flexibility were key themes at Cisco's 26th annual Partner Summit, which was held virtually from Nov. 9-10. And they aligned perfectly with a flurry of announcements from Cisco, everything from new ThousandEyes and hybrid work capabilities to the company's new Enterprise Agreement (EA).
"It makes Cisco's whole portfolio available through one experience," Chen said of the Enterprise Agreement, "and standardizes the approach with common terms and conditions across the portfolio through one pricing platform. We've brought together networking infrastructure, application, collaboration, security, and services into this one EA process and system."
Tyler Denney, director of software sales and services at NTT, which has piloted the EA, shared his own thoughts on the new model.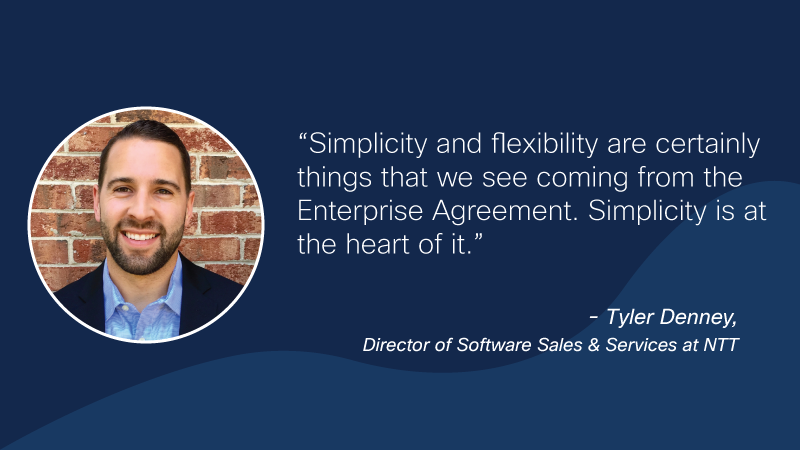 "Simplicity and flexibility are certainly things that we see coming from the Enterprise Agreement," he said. "Simplicity is at the heart of it."
At the same time, he's excited that more customers be able to access Cisco solutions, scale faster, and serve their own customers better.
"With the new EA, there's more flexibility in terms of the partial commitment," he added. "So, customers can pick their small install base and scale it up more flexibly … The entry point is lower. So now even more customers are going to be able to get into the enterprise model and take advantage of it."
Another partner, Clayton Daffron, director of solution architecture for Denali Advanced Integration, cited the importance of additional services as part of the new EA, especially for delivering the kinds of outcomes — like hybrid work — that his customers demand.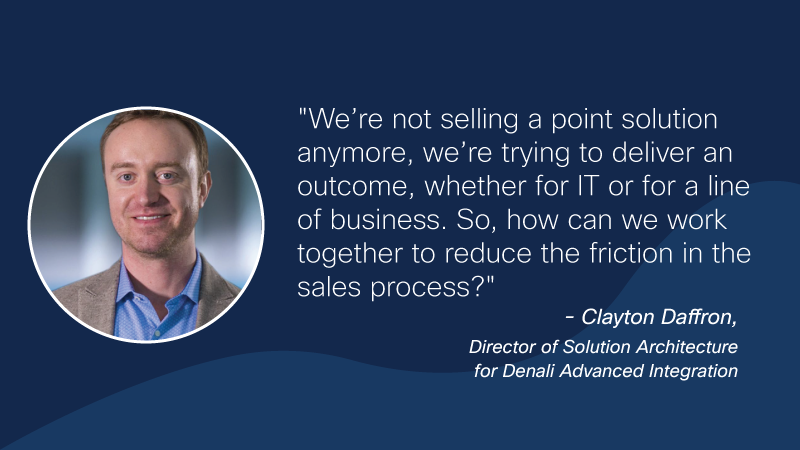 "It's a tremendous announcement," he said. "From my vantage point, it's about having the architecture and the CX practice together. We're not selling a point solution anymore, we're trying to deliver an outcome, whether for IT or for a line of business. So, how can we work together to reduce the friction in the sales process? And then ultimately engage as we go to ensure that we're hitting those milestones, aligning with the customer and delivering that outcome?"
Future ready for the next phase of hybrid work
From there, the conversation shifted to hybrid work. Jason Gallo, Cisco's vice president of partner sales business development, shared how Cisco research tracked IT's key careabouts throughout the pandemic, starting with shoring up connectivity, followed by responding to security threats across an expanded threat vector, and on to meeting user demands for a great hybrid-work experience.
"The mindset now," he stressed, "is about, how we deliver great employee experiences and collaboration tools to win the war on talent. And if you look at the evolution of those hybrid work trends, whether it was connectivity, security, or the collaboration experiences, we're truly the only company that offers an end-to-end portfolio."
Shining a light on complex, multicloud ecosystems
A key part of that end-to-end portfolio is built around visibility in a cloud-based, app-fueled world. Whereas IT once had control and visibility over their domain, hybrid work has added far-reaching complexity.
"Simply put, IT must optimize work experiences across networks," Gallo explained. "They don't own the applications that sit outside of their control and that's what's driving today's announcement: the need for better full-stack observability tools to manage and optimize the hybrid work environment."
Cisco's acquisition of ThousandEyes last year offered a leap forward in observing and managing that complexity, and its capabilities are only growing. It now includes Application Outages, in effect, a vast, global, real-time map based on deep intelligence and telemetry on network issues around the world.
"ThousandEyes has offered Cisco, our customers, and our partners, the most comprehensive visibility across the internet and cloud," Gallo continued. "And today, we're announcing the addition of Application Outages. It's powered by ThousandEyes' collective intelligence and based on billions of ongoing measurements across thousands of digital services and over 20,000 vantage points around the globe. Our partners can now work with their customers to identify problems and proactively alert them."
In the Q&A session, Gallo was also asked about the importance of ThousandEyes for hybrid work.
"In the complex environment that the IT professional is now tasked to handle," Gallo answered, "IT's accountable to make sure that the hybrid workforce is still productive and driving the business. You need tools to be able to monitor and observe that environment much better. And that's what ThousandEyes brought us from the acquisition and now with Application Outages."
Another question focused on the development of the new EA, specifically the degree of input from partners vs. internal Cisco stakeholders.
"Practically all of our enterprise agreements go through our partners," answered Dan Lohmeyer, vice president of product management at Cisco. "That's where a lot of the feedback for the enterprise agreement came from in terms of giving customers more agility and making it easier to do business. But we also saw internally that it just took us too long to bring new products to market. So, we also wanted a platform that made it easier to add new things."
In closing, Cisco's Jason Gallo shared a few thoughts on the synergy of these technologies and solutions and what they mean for the future.
"It's just amazing to see how these things are all building upon one another and creating momentum for our partners," he said, "whether it's the need now to address hybrid work, which means multiple architectures and a solution enabled through an enterprise agreement. Or whether it is driving more observability into a set of backend processes, which is full stack observability. All of these market trends are tying together, and the momentum is shifting in favor of Cisco."
###