This is a post by Christine Johansen.
Quick—what is Nasdaq? If you said it's a global stock exchange that's home to the fastest-growing, most innovative companies, you're right. If you said it plays an important role in the US and global economy, with its two major indexes that are closely watched barometers of business — the Nasdaq Composite and the Nasdaq 100 — you're also right. And if you said its technology powers capital markets all around the world, from Argentina to Turkey to Indonesia, you too are right.
It's a complex business. Developing and executing a technology strategy to support Nasdaq's hybrid work effort is complex too, and Bharat Patel's team plays a key role in that. Bharat is the vice president of global corporate infrastructure technology for Nasdaq. His team is tasked with empowering workers to be engaged and productive at home, in the office or anywhere, by enabling inclusive, flexible, supportive, secure, and IT-manageable work experiences at scale.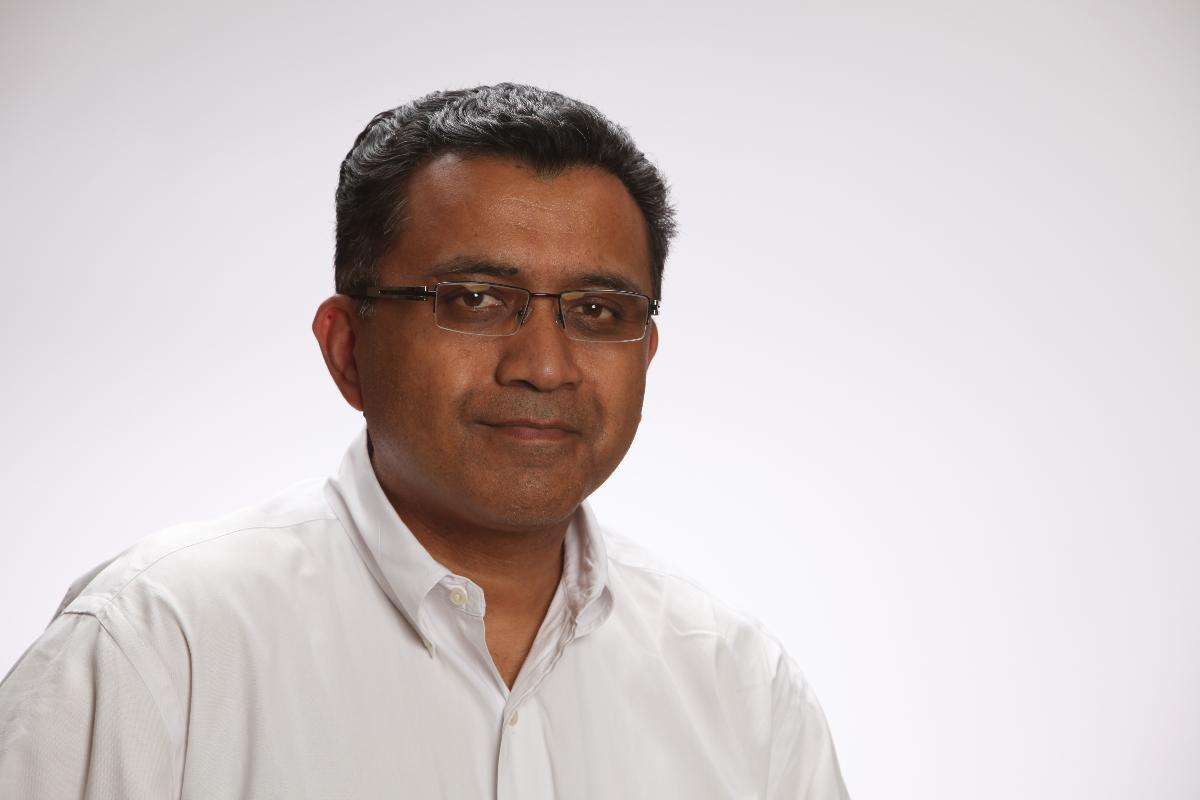 Bharat will share insights with industry analysts on a Cisco Global Analyst Call later today. In this Q&A, he talks about working with Cisco on Nasdaq's hybrid work approach and some recent technology moves his team has made to change the way Nasdaq works.
Q: Hybrid work has been a big focus for Nasdaq—even before the pandemic. Tell us about it.
A: Yes—our hybrid work effort started long before the pandemic. One of the big drivers is diversity and inclusion. I am the Global Technology representative on Nasdaq's corporate Diversity Council that was created to support the company's diversity goals. We've worked with Cisco to put the right technology in place to support hybrid work, so we have a broader opportunity to encourage more diversity in our hiring. Having a secure and flexible infrastructure means we can hire people anywhere and get the best talent.
Of course, no one expected the level of hybrid work that the pandemic thrust upon us. Today Nasdaq has over 6,000 employees with remote access. And we have several major ongoing projects with Cisco to support that massive change.
Q: I understand one of the big projects is in your contact center, yes?
A: We started deploying Webex Contact Center before the pandemic hit. At that time, most contact center agents worked in our offices—in places like Philadelphia, Times Square, and Rockville. If they absolutely had to go home, they could switch to their home office as a temporary solution. We wanted them to be able to be more mobile and still have a great experience. While VPN solutions make it relatively easy for most employees, it is more of a challenge for contact center agents since their tools are more sophisticated. With the Webex Contact Center cloud solution, they no longer need to be on a desk phone or soft phone tied to our system. And if their home network goes down, they could go to a coffee shop and VPN in with everything encrypted or transfer the call to a mobile phone.
Q: Hybrid work wasn't the only reason for your contact center switch. What else drove the decision?
A: Our contact center is mission critical; it handles calls from investors, CEOs of our listed companies, and from vendors looking to pay invoices.
Nasdaq has grown over the years via acquisition, and with those acquisitions came a hodge-podge of contact center solutions. Some of our businesses had little more than call forwarding capability because they started small and grew over time but didn't invest along the way. We needed a more mindful approach.
When we started the design process, we realized a few things quickly:
First, it needed to work everywhere. We have contact center employees throughout the US, Europe, and Asia, and we provide call and contact services globally. And our footprint will keep growing.
Second, integrations would be key. Some of our businesses use Salesforce. Others use Freshdesk. Some are considering ServiceNow. We needed an integration-minded solution.
Third, we sought simplicity. Before, anytime a manager needed to add an agent they needed to tap the small team of experts inside Nasdaq. We needed to let managers easily make their own changes.
Finally, we needed reliability. Nothing frustrates our customers and businesses more than a service failure. We can't tolerate contact center downtime when quarterly analyst reports are due.
With these needs in mind, we decided to take a SaaS approach with Cisco to get us to a more advanced contact center. Cisco partner Servion has been key, overseeing the design, deployment, integrations, and ongoing management. The businesses are happy—they can see that what they had before pales in comparison to what they now have with Webex Contact Center. And this is just the beginning.
Q: You also made infrastructure changes to support hybrid work. Can you tell us about that?
A. When the pandemic hit, one of the biggest unknowns was whether we would be able to support so many people suddenly and continuously working from home. We have always tested our remote access capabilities, but in the blink of an eye close to 100% of Nasdaq needed to connect remotely to our infrastructure, for large chunks of time. That was one of the biggest challenges—so many people were connecting and staying connected for 8 to 10 hours straight. We had to manage continuous capacity.
We worked with Cisco to identify opportunities to optimize, since adding capacity is not an overnight thing—it takes time.
In less than 60 days, we increased remote access capacity for our users by 5x. We partnered closely with Cisco to make sure we didn't just "fix" a problem with capacity in the front end. Instead, we also scaled our backend services.
In the end, we scaled all four of our large gateways from 1 gig to 10 gig.
This helped especially with video. Our leadership was very clear with me that video would replace the face time we'd normally get in the hallways and around the offices. Not just for senior leaders, but for all our teams. With Cisco's help, we have been able to meet this need. The work we did early in the pandemic has sustained us and kept us connected.
Keep in mind that Nasdaq not only runs and operates our own 20 markets, but our technology also runs over 130 markets for other companies. Our technology is behind the Jamaica Stock Exchange, the National Stock Exchange of Australia, and many others in between. So, in terms of the global economy in general and especially the volatility we saw in the springtime, we had a lot to deal with. The fact that we could operate smoothly during the pandemic with close to 100% of people working from home—without hiccups—is a testament to the resiliency we built into our infrastructure with Cisco. Cisco was an essential partner as we scaled.
Q: Can you tell us about your move to SD-WAN?
A: Like many organizations, our end users are using more SaaS tools. We are evolving our infrastructure to better support them. When you're using a hub and spoke network model, SaaS services don't work very well because you're asking traffic to go across artificial communication lines. The SD-WAN architecture solves this problem. It basically creates a hybrid network that decides which traffic needs to go where so users get the best experience.
We reduced our need to build out large hubs with larger and larger pipes and now have a much more reliable mesh network. And if, for instance, Internet service goes down in our data center, it impacts just one office—not the entire region. Three of our 20 largest offices are already on SD-WAN, and we've seen great benefits; the rollout will continue as our offices reopen.
Q: How has the increased mobility of employees in a hybrid work model evolved Nasdaq's security needs?
A: Hybrid work doesn't really change our focus from a security standpoint. It doesn't matter whether the user is remote or on premises; we still need to make sure that access is regulated in such a manner that the user is only allowed in the places he or she needs to be. Cisco happens to be very good at doing that, and we have a longstanding relationship with Cisco when it comes to security.
As needs evolve, as we become more globally dispersed, we need to ensure that Nasdaq continues to have the most secure environment and at the same time provides the access people need. We're constantly transforming the environment in such a manner that it remains scalable and secure.
Q: Sounds like Nasdaq and Cisco have achieved a lot of great results together. What's the secret?
A: Keep in mind that Nasdaq is at its heart a tech company—we want innovation and great new services and features. At the same time, we serve capital markets, and therefore value stability. It's a constant balancing act. I don't think it's a secret per se, but it is key to our success that Cisco understands that balance. Working with Cisco we get the best of both worlds.
It's also important to note that changes don't happen overnight in an environment like ours. Nasdaq values its strategic relationship with Cisco; we start with early-stage discussions and work strategically together over time to determine how to embed new technologies into our environment.
###
Related content: