Whether the drivers are humans or computers, high-performance race cars demand split-second reflexes and responsive, reliable technology that excels under the most punishing and dangerous conditions.
That's why Cisco has been working with Indy Autonomous Challenge and GT race teams in Indianapolis and in Austria to push the boundaries of what autonomous or remotely driven cars can do. The resulting innovations promise impacts far beyond the racetrack. The Indianapolis initiative showcases wireless capabilities that benefit everything from autonomous pick-and-pack warehouses and factory-floor robots to self-driving rail and people movers. And in Europe, the reliability and performance demonstrated by controlling an all-electric GT race car from 43 miles away using Cisco SD-WAN could be leveraged for any business connecting campus, branch, or remote worker location.
As the premier sponsor of the $1.5 million Indy Autonomous Challenge on Oct. 23, Cisco is contributing its technology and networking expertise to support the first autonomous car race at the famed Indianapolis Motor Speedway (IMS). It involves 9 teams made up of students from 21 universities. Each team has been pulling all-nighters to develop the coding, algorithms, and software that will control their otherwise identical Dallara-built AV-21racecars, all fitted with self-driving hardware re-engineered and assembled by Clemson University students.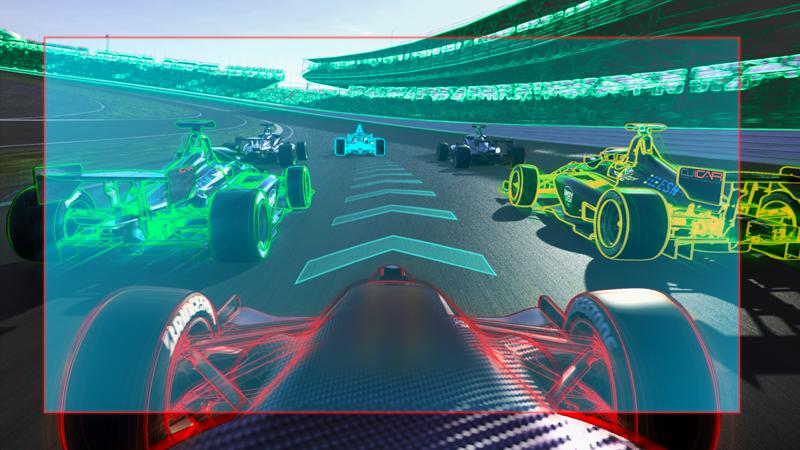 To succeed, it's critical to have network connections that are lightning fast, highly reliable, and ultra-low latency. That's where Cisco comes in.
"The network is super important," said Patty Medberry, head of product marketing for Cisco's Internet of Things group. "At these speeds, one little hiccup can spell disaster, so low-latency and reliability is key. And all the different sensors, radars, and cameras need to work together as one. That generates large amounts of data that the network must be able to handle."
Remote connectivity on the GT Circuit
In Spielberg, Germany, on Sept. 5, the opening lap of the Red Bull Ring, was run by one of the world's fastest electric cars, a 1000-horsepower DTM/Schaeffler race car. But for this event, the car was controlled by a professional race driver 43 miles away, in Graz, Austria.
The remote driving and networking capabilities were developed by Cisco and its partner, the German network service provider Riedel Networks. It's a partnership with deep roots and extensive experience in the racing industry, with the two companies collaborating on wide-area networking (WAN) and other infrastructure requirements for major events across Europe.
"It's a very special relationship we have with Cisco," said Michael Martens, managing director and CEO of Riedel Networks. "We use nothing but Cisco equipment. And we do 22 Formula One races a year. We have gotten a lot of support from Cisco over the years, and we thought this challenge would be a good way to show just how powerful Cisco technologies can be."
Cisco solutions for the Spielberg event included a trackside IP-network to connect the car to the pit crew with data and video. Cisco SD-WAN and Catalyst edge platforms provided direct connections between the racetrack and remote driver, with Cisco 5G Cellular Gateway as a redundant backup. The average network latency was only 2 milliseconds.
"The goal of using these technologies," Martens stressed, "is to combine the greatest compute power with ultra-low latency, to deliver as close to the speed of light as possible."
Showing what's possible, beyond racing
The implications for both the European and U.S. initiatives go far beyond racing.
"Racing is a fun thing," said Kyle Connor, Cisco's global transportation principal, "but it's not just about racetracks. Autonomous vehicles are in use across a variety of industries. And we're showing how we can connect this intricate sensor-fusion capability and do it with great speed and safety. Because a car like this is not that different from an autonomous mining vehicle, a train, a crane in a port, or a mobile robot in a smart factory."
Similar Cisco solutions are already employed in rides at the world's largest and most popular amusement parks.
"Some of the same technologies are already moving people around in amusement park rides," Connor said. "They don't travel at 200 miles an hour, but they're all about voice and video sync. An explosion has to shake the ride at just the right time or your experience won't be a good one. And if that vehicle stops talking to the network, you have to make sure that those paying riders are safely controlled or stop the vehicle if necessary."
On behalf of the Indy Autonomous Challenge, Clemson University and Energy Systems Network (ESN) evaluated a number of technologies before settling on the Cisco Ultra-Reliable Wireless Backhaul for the race's foundational infrastructure.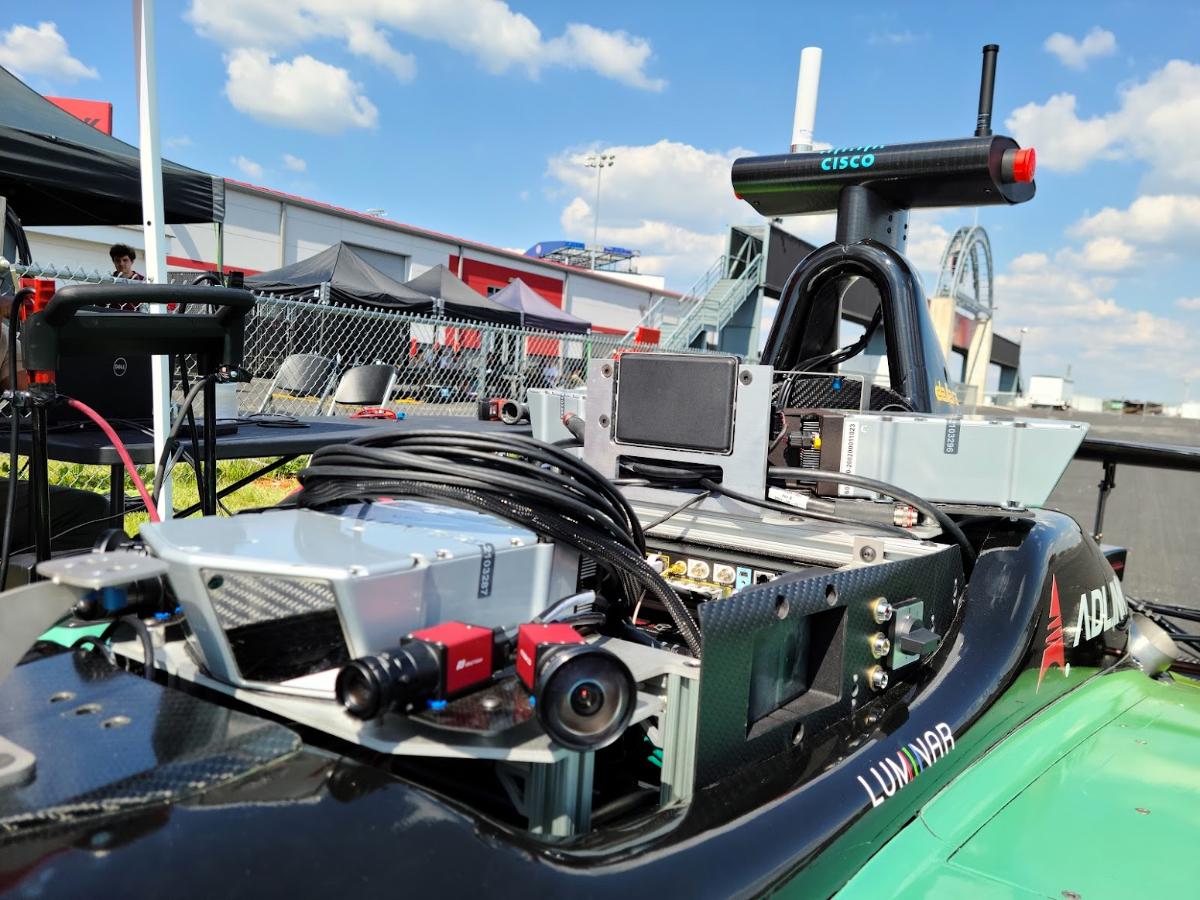 "At this level of data transmission, we needed a super reliable system and a super robust wireless infrastructure," said Matt Peak, managing director of Energy Systems Network and a leader of the Indy Autonomous Challenge, "so that our race control could track everything and and issue essential commands when necessary."
So far, the decision has paid off.
"In tests, we were seeing around 400 plus megabits per second, at very high speeds," Connor said. "Cisco Ultra-Reliable Wireless Backhaul was the only technology with the reliability, speed, and low latency that met their requirements. Since then, Cisco has donated its rugged Industrial Catalyst IE Switches to connect the various sensor components within the cars. These switches are built to withstand the harsh environments and the vibrations from the car and are similar to switches used on large mining vehicles."
Motor sports have a grand tradition of innovation, and there's no telling what may arise from these current efforts.
"The Indianapolis Motor Speedway has been a proving ground for hundreds of innovations," said Medberry, "including airbags, anti-lock brakes and rear-view mirrors."
Added Peak: "We're very mindful of the shoulders that we're standing on. There's a 100-plus year history of innovation at Indianapolis. We hope to make our contribution to that cause with autonomy. And given the talent, passion, and conviction on these race teams, I believe that we are working with future auto industry and robotics leaders."
Another aspect of both the Indianapolis and European initiatives is that the vehicles use off-the-shelf technologies, which would make adoption simpler across many industries.
"They took these cars and retrofitted them," Medberry said. "So, if you applied this to, say, mining or cranes in a port, you would not have to buy a whole new vehicle."
Safety on the racetrack, safety on the highways
For Martens, the reliability of these systems is critical for all future use cases.
"It's very important to have very rugged technology and reliable service," he said. "If you're the driver of a multimillion-dollar race car, communication must be crystal clear. And the network can't be interrupted."
As Peak stressed, that same level of reliability and innovation promises to protect everyday drivers as well. For example, the algorithms and technologies used at the Indianapolis Motor Speedway can improve advanced driver-assistance systems, which assume control of cars to help drivers avoid highway dangers.
"A big goal is to save lives in person-driven cars," he explained. "If a fully autonomous race car can swerve around other cars and obstacles and maintain a steady state at a high speed, then imagine it on your passenger car at 65 miles per hour when that unexpected obstacle falls off of the truck in front of you and you have to avoid it."
For Martens, the reliability of these systems is critical for all future use cases.
For Liana Schmitt, Cisco's SD-WAN managed service creation sales specialist for central EMEAR, the Cisco/Riedel Networks/Schaeffler/ITR initiative is a demonstration of both technology and partnerships — and what's possible when great innovators combine their talents.
"These are special use cases," she concluded. "But they demonstrate the power of our portfolio of network technologies. We're thankful to have an opportunity to demonstrate our solutions, and how we work together with our partners to figure out new areas of success, new markets, and future-proof projects."
Learn more about the Indy Autononmous Challenge here.
###
Related content: