As a judge in Detroit's 36th District Court, Aliya Sabree has seen far too many promising young people stifled by a lack of skills and opportunity. And it often pained her to impose sentences and fines for non-violent, repeat crimes — sentences that could deepen the cycles of hopelessness and poverty.
So, when Cisco told her about a pilot program called the Second Chance Justice Reform Initiative, she jumped at the idea.
"A lot of times the young people in Detroit are set up to fail," she said. "We have one of the lowest-ranking educational systems in the country. And we see a lot of people in the court room that just need someone to take some time, ask them what they need, and provide some type of opportunity."
The Second Chance initiative does just that.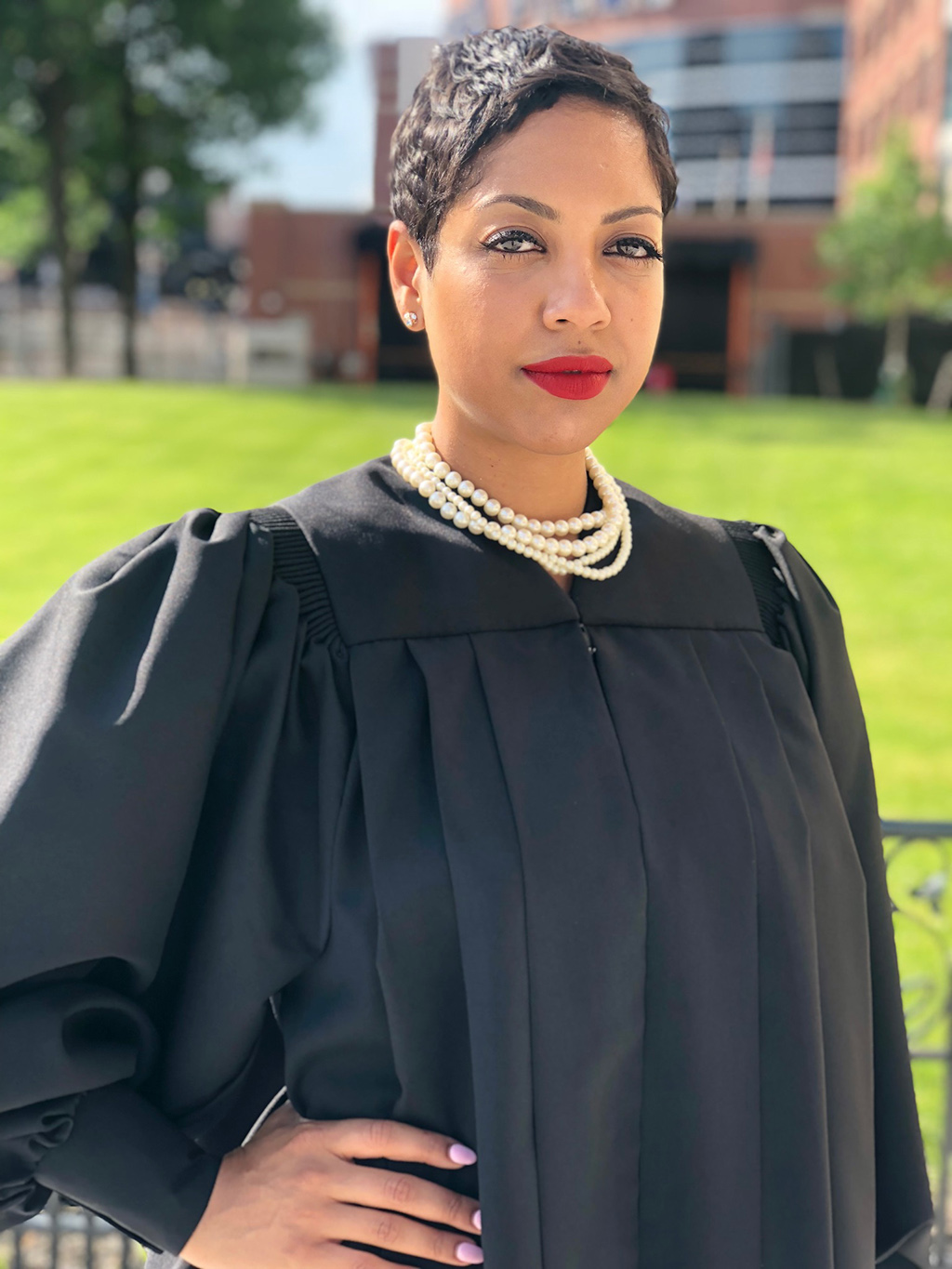 By combining real-world education in IT skills from the Cisco Networking Academy with deep mentoring on everything from time management to acing job interviews, Second Chance promises a way out. Judge Sabree treats it as an alternative to fines, work programs, or worse, incarceration.
"It's very common to see people commit crimes basically, because of survival," she said. Others, she added, are willing to accept jail time in lieu of paying stiff fines for things like traffic infractions, which often arise in communities where insurance rates are so high that driving with proper registration is out of reach.
Since last year, when Second Chance secured funding from Cisco's Ambassadors for Change group, Judge Sabree has implored young offenders to join — even showing up at their homes with laptops supplied by Cisco.
Earlier this summer, the first six graduates celebrated completing the 12-week pilot course during a Webex ceremony in which Sabree announced she was waving all fines the students had incurred earlier.
'A blessing from God'
In the Detroit program, , students have a chance to attain the Networking Academy's industry-standard certificates in basic IT and cybersecurity — certificates that have opened new opportunities for people of all backgrounds around the world. Those opportunities have since spread to another program in Chicago, which had its first graduation ceremony last month. And plans are underway for Second Chance initiatives in Oakland and other cities.
Clydene Stangvik is the Midwest manager for corporate social responsibility at Cisco and a leader for the Cisco Networking Academy. Together with Steve Cox, a vice president for employee experience at Cisco, and Rebecca Noel, a journey automation lead, Stangvik is a driving force behind Second Chance, which began with $60,000 in startup funds donated by Cisco.
"This alternative gives you a future," Stangvik said. "The other one is just really punishment. It's a second chance at education, so people can go out and pursue a career."
Some students view the program as heaven sent, literally.
"The streets might not have put me on the right road to positivity, and I found myself in and out of police data bases," said Andre Davis, a 28-year-old who dreams of a career in gaming or IT. "But this just felt like a blessing from God. Because I was trying to work towards something like this, and I just kept praying for it."
Davis, who was among the first class of graduates earlier this year, credits the guidance of his mentor, Mac Smith, a Cisco employee and Ambassador for Change activist, with helping him stay on track.
"Mac and me, we kind of relate to our backgrounds and our past histories," Davis said. "There's a lot of things he told me that I am incorporating into my life, like time management, and staying on the straight and narrow."
Smith is happy to help.
"All the students are enthused," said Smith. "But Andre is really excited. I've talked to Andre several times on the phone for at least an hour and a half."
Another key player in the program is Wayne Boggs, a Cisco Networking Academy instructor and lead teacher in the Second Chance course.
"All these people need is some skills," he said. "We have been begging the greater Detroit area to start up IT programs and cyber security programs. There's 22 high schools in the greater Detroit area and this is how many such programs they have — zero."
But Boggs is excited about the progress so far — especially the real-world conditions that the course emulates.
"I'm playing teacher, slash employer," said Boggs. "As we go along, the learning is a little bit less about IT and cyber security and a little more about accountability, punctuality, all these kinds of things that the corporate world lives and dies by."
Arielle Jones, another graduate, appreciated those real-world conditions. A young mother who got in trouble for repeated traffic violations, she had no background in technology but was open to the opportunity that Judge Sabree offered. Since then, the program has sparked her curiosity about a career in the tech industry, possibly in marketing.
"I never saw myself getting into this field," she said, "but when I saw other people with these success stories, I thought OK, I will give it a try."
Regardless of what career path she follows, she believes that the lessons of the class, which included mock job interviews, will be invaluable.
"It was just a practice interview," she said, "but it seemed real. And I wasn't really ready at first. But I knew I would do better."
A way forward for troubled communities
As Smith stressed, the young people in the program are not the only ones who will benefit. Finding good technology talent is a struggle for many organizations. And there are good jobs across the country waiting to be filled.
"We have a large pool of talented young people hungry for new opportunities," he said. "It's about having the confidence to go through a program like this and knowing, 'I can actually do it.'"
At a Webex ceremony, Steve Cox lauded the newly minted graduates for their dedication to the program, despite challenges like multiple jobs, parenting, or schoolwork.
"I want to say what an impressive group you are to accomplish all of this, especially after hearing everything that you had going on," he said. "You have incredibly bright futures ahead, and I can't wait to see everything that's going to come from this."
Judge Sabree agrees it's just a start, for the recent graduates, for the classes to come, and for the example Detroit can set for other struggling communities.
"I'm just thankful to Cisco," she said. "Everyone has been just completely invested in the students."
Andre Davis concluded with his own thoughts.
"I feel like this is one of the biggest things that anybody ever did for Detroit," he said. "Thank you for the opportunity."
###
Related content: