Nancy Cam-Winget is part of the 0.02 percent.
That's the percentage of employees at Cisco who hold the title of Cisco Fellow. 20, to be exact.
The promotion caps a 19-year history at Cisco for Nancy, who is of Chinese descent, grew up in Peru, and now lives in Mountain View, California. During her time here, she has become a towering presence on the worldwide security industry stage.
She played a key role in driving Cisco's security technology strategy for most of the company's history in the security business. Without her contributions, much of today's Cisco Security portfolio — Wi-Fi security, Network Access Control, Network Segmentation, IoT (Internet of Things) security — would not exist.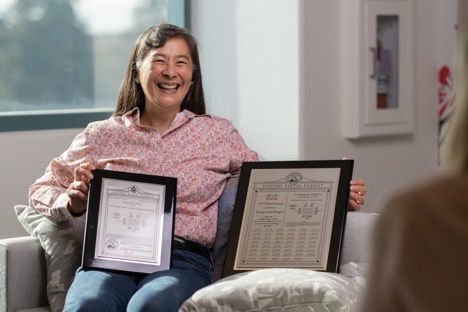 Her superpower? Taking ideas and turning them into award-winning products and standards-based technologies. Among the many tangible results: security architectures across several multibillion-dollar product lines, over 50 foundational patents to the security industry, and a long list of protocol standards that permit the world's security technologies to talk and work with each other.
Along her journey, she has worked tirelessly to mentor and share her love for technology and problem solving with up-and-coming engineers.
We caught up with Nancy to ask her today's cybersecurity landscape, what made her become an engineer, and more.
Cisco: You're considered a worldwide leader in wireless and network security. What accomplishments got you there?
Nancy: I was one of a handful of architects in the industry who shaped Wi-Fi security. This became the foundation for changes to other wireless modalities.
We designed the idea on a napkin in the wee hours of the morning. It's pretty cool knowing something used as commonly as Wi-Fi has stuff I designed.
The innovations launched my security career and brought a degree of recognition because it was a time where wireless was relatively new. We literally had to influence the industry — as well as some government bodies — because we had to create new constructs to secure the wireless medium.
Our work also spotlighted things we needed to improve upon in general security, so it drove quite a few technologies in Cisco as well the industry.
In the last decade, as IoT and its security was in the limelight, I was one of a few people tasked with looking into what it meant for Cisco. I influenced and helped define IoT security protocols and mechanisms for our products and driving them in various standards forums.
Cisco: What does being promoted to a Cisco Fellow mean to you?
Nancy: I feel very honored. Throughout my career, what's driven me is closing gaps and trying to ensure we bring out practical technologies that people will use.
I've always done what's needed to help our customers and Cisco. The promotion gives me validation that all my efforts have been important.
Cisco: How do you plan on using the promotion as a platform? What do you hope to achieve?
Nancy: I'm passionate about trying to ease the path for others to succeed. I've been doing quite a bit of mentoring, and I want to see how I can scale those efforts better.
I'm an introvert by nature, so if you'd asked me this question 25 years ago, I don't think using this platform would have crossed my mind. But being one of the few to get to this stature taught me the importance of reminding people that if they follow their passion and energy, they can achieve their goals.
Cisco: Cybersecurity is constantly changing and evolving. How do you keep pace with all of the trends and decide what goes to the top of your innovation list?
Nancy: It's not only true of cybersecurity, but of the whole technology innovation curve. It's moving so fast and there are so many areas where you can innovate — it's hard to keep up and it can be overwhelming, even for me.
What drives me are the seminal areas where, unless we close a certain gap, we will be in trouble. It takes discipline to pick the one or two I believe are going to be focal.
If we don't address something appropriately, are we helping the attackers? Are we allowing them to do more harm while trying to do more good?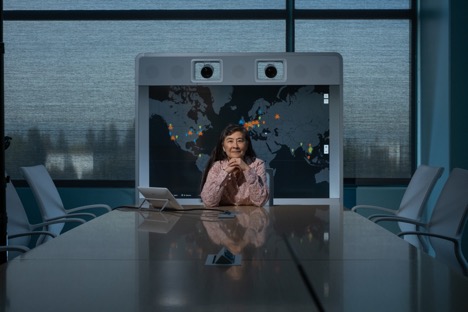 One area I'm driving within Cisco and trying to help elevate across the industry is that balance of wanting to provide security and privacy. There's this notion that all your data should be confidential and nobody should be able to disclose anything about you — except we need to protect you!
It's about striking the balance of providing the appropriate information to trusted sources so protections can still be enabled while respecting privacy.
It's an area that's ripe for innovation.
Cisco: It's been said that without your contributions, our security portfolio wouldn't be where it is today. How have you helped shape our products and solutions and driven our technology strategy?
Nancy: My contributions were part of a full team across the industry to make Wi-Fi secure and the success it is today. Beyond defining Wi-Fi security, our wireless products were one of the first in industry to come out with and adopt how we provide a secure, unique identifier to our products themselves — this is now IEEE 802.1AR.
In recent years, I've influenced the industrial side of IoT markets so best security practices get used.
These days, beyond IoT security, I'm focused on the encrypted Internet and an initiative we call "Dark Data."
Cisco: Where do you see the cybersecurity landscape in the next several years?
Nancy: Being able to detect threats accurately and in a timely manner is still our target. I see our landscape in a race to make real time accurate detection a reality. I would love to see this become a reality and see it automated in my lifetime.
However, remediation of security threats — especially in IoT — may still require some human intervention.
For example, if you think about automating the shutdown of a power plant, there are huge implications. But being able to automate the shutdown of a phishing attack is something I'd like to see soon.
Cisco: What made you want to be an engineer? Was it something you always knew you wanted to do?
Nancy: As a little girl, I was influenced by the Apollo launch and Neil Armstrong's 1969 landing on the moon. I aspired to be an astronaut, but my dad said little girls don't do that.
I really liked math, but I never envisioned being an engineer. Technology was not a predominant theme in Peru, but I knew computers existed because in high school, a teacher gave us an 8080 microprocessor board you could program.
At 17, I came to the U.S. for college through a partial scholarship to specialize in theoretical math. But I took one class in computer engineering/programming, and that was it. I really liked that I could apply my math to it and went on to get my bachelor's in Electrical and Computer Engineering from the University of Michigan in Ann Arbor.
Growing up, my parents had that stereotype of, you're a woman, how can you be an engineer? It's kind of what's driven me — not necessarily to prove them wrong, but to prove it can be done.
Cisco: What does innovation mean to you?
Nancy: There's a quote by Thomas Edison that resonates with me: "The value of an idea lies in the using of it."
What it means to me is, if you know you need to solve a problem or you think you have this great idea to solve a problem, what matters is how you shape it so it becomes something useful. So people will like it enough to use it and have it become a mainstay.
Cisco: What motivates you?
Nancy: If someone has doubts about whether something can be done, I take it as a challenge. Let me see if I can change your doubt into a reality. I'm always curious, which is what keeps me going.

###