Guest post by Mark Ivey and Jerry Soverinsky
Topping the list of things that Rahul Parameswaran misses most from his hometown of Bangalore is cricket.
Cisco's Technical Marketing Leader moved to the United States from the bustling Indian city more than a decade ago. And while the ubiquitous internet service in the U.S. allowed him to watch India's most popular sport, the experience was frequently glitchy and unpredictable.
"It drove me mad when I'd watch a match and my computer would freeze or buffer the picture," Rahul says.
Little did he know his frustration would one day lead to a groundbreaking innovation. It would transform the sports viewer experience and inspire partnerships with some of the biggest names in entertainment and sports broadcasting, like the NFL and NBA.
The video challenge
Digital devices have proliferated over the last several years, offering a myriad of technical possibilities — high-definition, ultra-high definition, 4K, 8K, to name a few. But usually, their specs were merely aspirational, limited by the video quality that they received. Turns out cricket was not the only televised sport lost in translation.
For Rahul and other viewers, that meant, no matter the speed, RAM, or pixel density of his digital devices, the viewing experience was a crapshoot. It was limited by how the content was created and distributed. The "pipes" just weren't sufficient for a smooth, seamless experience. The viewing experience often suffered as a result.
So, one day — as all great stories begin — in 2016, his Cisco team received a proof-of-concept request from a customer that wanted to transport high bandwidth video over IP.
"I was the only person in the room that had some cycles to work on it. And I just said, 'Hey, you know, why not? I'll help.' And that's where it started," Rahul says.
The opportunity for Cisco to create a vastly enhanced media viewing experience had begun.
This journey would change Rahul's career trajectory and put Cisco at the forefront of a red-hot technology eventually used to broadcast global sporting events.
When Rahul decided to tackle the IP challenge in 2016, the issue was how to RELIABLY transport these high bandwidth broadcast signals, which are predominantly multicast, over IP (Internet Protocol-based networks).
So, in typical Cisco fashion, Rahul joined with other teams to find a solution. "I started out whiteboarding this in a room with a bunch of smart folks from Engineering," he says. "After a single session, we figured out what to do, and created a proof of concept. We were soon able to solve the problem with a powerful solution: Cisco's IP Fabric for Media."
The work eventually led to Parameswaran's first patent.
Off and running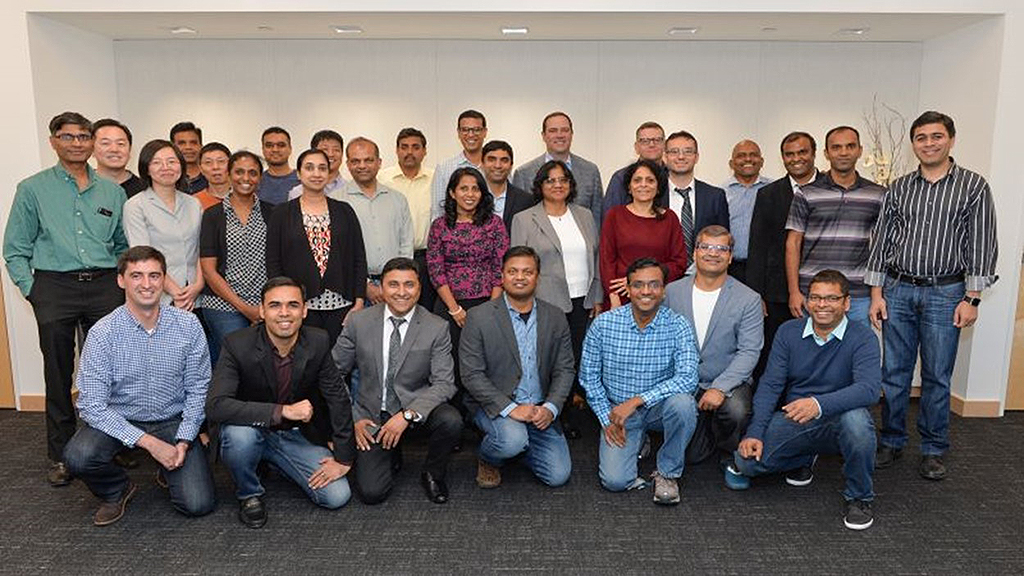 Working closely with CTO, Engineering, and Sales, Rahul helped steer IP Fabric from concept to reality. He quickly realized the technology was not just timely, but that Cisco was poised to become a market leader producing it.
"I understood that there was an immense opportunity for Cisco to go and disrupt an industry," he explains. Rahul's assessment proved prescient. The technology was soon catching on across the industry.
By 2019, the solution had risen to the top of the broadcast industry's wish list, with "IP networking and content delivery" ranking at the top of the Big Broadcast Survey Trend Index by Devoncroft, an industry data and research firm.
Today some of the biggest names in sports broadcasting across the globe are employing Cisco technology.
The National Basketball Association, National Football League, CBS Sports, and the English Premier League, to name a few, use Cisco's IP Fabric to broadcast live sports.
Along the way, Rahul and the Cisco teams began getting recognized. In 2018, IP Fabric for Media team won the prestigious Cisco Pioneer award for groundbreaking innovation and creating a compelling solution in a brand-new market segment.
Looking ahead
Cisco is barely scratching the surface on this sizzling market. Stadiums, universities, TV stations, radio stations, churches, eSports, and production trucks all have the potential for transformation.
And with less than 150 IP-based deployments to date out of thousands of opportunities worldwide, Cisco's work is just beginning. "You have a tremendous number of legacy systems in the world… We are very early in the process," Rahul said.
Industry analysts estimate the global market for IP-based Production networks and media infrastructure now tops $1 billion.
In some respects, obvious targets might even represent the low-hanging fruit of business opportunities. "Today, we're talking about HD and 4K," Rahul says. "But if you look at some of the innovations being done in content creation, there's 8K, virtual reality, 3D, and holograms— all of which require incredible amounts of bandwidth. Something IP Fabric can deliver."
When asked what that will mean for viewers, Rahul's eyes widened. "You'll be able to experience an event without having to physically be there. That's what the industry is trying to solve."
Getting it just right
Rest assured, Rahul will be there. With IP Fabric gaining traction in the marketplace, Rahul has become an overprotective overseer of its success.
He views sporting events differently than most fans. Like a musical composer obsesses over a symphony's every note and rhythmic cadence, Rahul watches sports and entertainment broadcasts closely, texting colleagues whenever he notices imperfection. Every camera shot is critical.
"If something goes wrong on my screen, I text a friend, 'Hey, did that just glitch for you as well?' I'm constantly curious and want to ensure that our technology is working well."
Consider Rahul's obsession with perfection and his work the next time you turn on an NFL game, League of Legends eSports, stream a movie, or watch almost any sports or entertainment broadcast.
As you cheer on the players or actors, tip your cap to Rahul and the IP Fabric for Media team too.
He might not have scored the winning run on the field, but he certainly improved the game for every fan at home.
###
We welcome the re-use, republication, and distribution of "The Network" content. Please credit us with the following information: Used with the permission of http://thenetwork.cisco.com/.