The things on a person's desk or their office can say a lot about them. What's on your desk is The Network's Q&A series that interviews Cisco's innovators and leaders and explores their favorite work objects.
Q: What's your name and role?
A: My name is Alex Allen. I'm the Inclusion and Collaboration leader for Customer Experience and Global Sales & Marketing, and I have the best job in the world. I help leaders shape their perspective on the value of diversity in their organization.
Q: How does that work?
A: We partner with business leaders and People & Communities (HR) to design, deliver and implement inclusive workforce practices. That includes how we hire, develop and engage with our talent. We look at the entire employee journey and implement actions to increase hiring, development, and engagement with diverse talent.
We meet quarterly with senior executives and their staff to discuss their diversity data and align on actions and priorities for the upcoming quarter and the year.
Q: Tell us about some of the things on your desk/in your office that are special to you and why?
A: A couple of things on my desk that are important to me are books. I have this sponsorship book by Sylvia Ann Hewlett "Forget a Mentor, Find a Sponsor." Our Multiplier Effect Program is actually inspired by her research. We believe sponsorship is key to hiring, retaining and accelerating the pipeline of diverse talent. I'm also currently reading "The Outliers" by Malcolm Gladwell. I believe this time of "crisis" is the catalyst for transformational change on the topics of diversity, inclusion, racial injustice, and social inequality, including all topics related to minorities. Although I have not yet finished the book, so far, it articulates that timing is more important than having the highest IQ. I believe society is ready and Cisco is perfectly positioned to provide an Inclusive Future for all and to eradicate racism.
Another thing on my desk is my DX80. As an effect of the "crisis" (pandemic, isolation, racial injustice), I believe my virtual proximity has significantly increased. Rather than hallway conversations in the office, thanks to Webex, everyone now has the same virtual accessibility when discussing diversity, inclusion, or talent. Working from home has leveled the playing field, and the compounding of racial injustice has made my job exponentially more important. Every ping, call, or email - I embrace each interaction!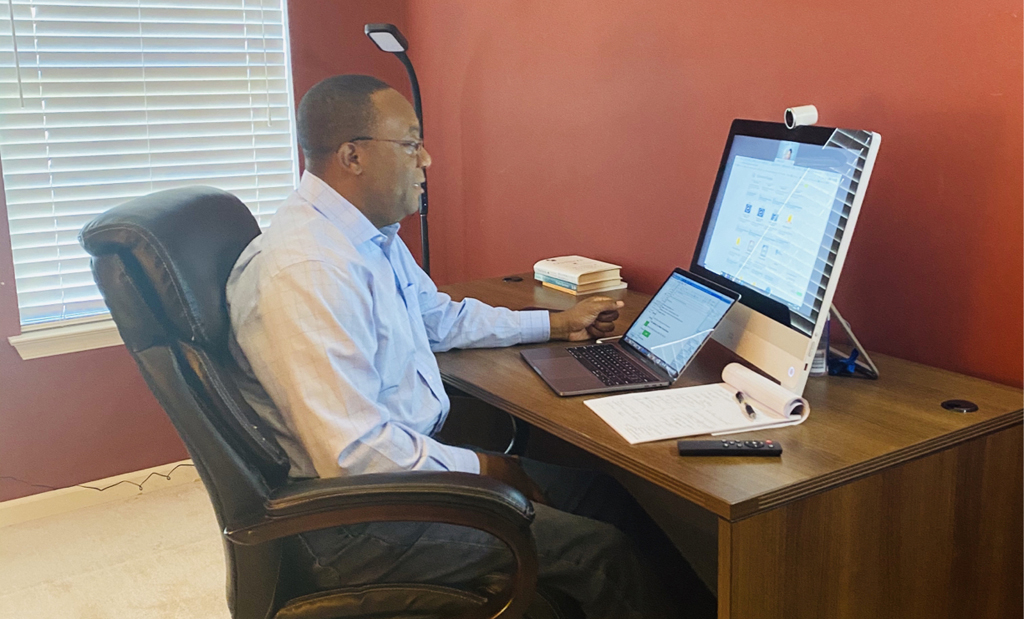 One last special item— a Jackie Robinson 50th anniversary coin, marking his breaking the color barrier in Major League Baseball. This was a gift from John Wunder, Vice President of Global Renewals, after I was promoted. In my office is a picture of Jackie "stealing home base" in 1952, five years after he was the first person of color to play Major League Baseball. John noticed the picture in my office during one of our meetings and surprised me with the gift. John has been leading from the front on our Inclusion Proximity Initiative.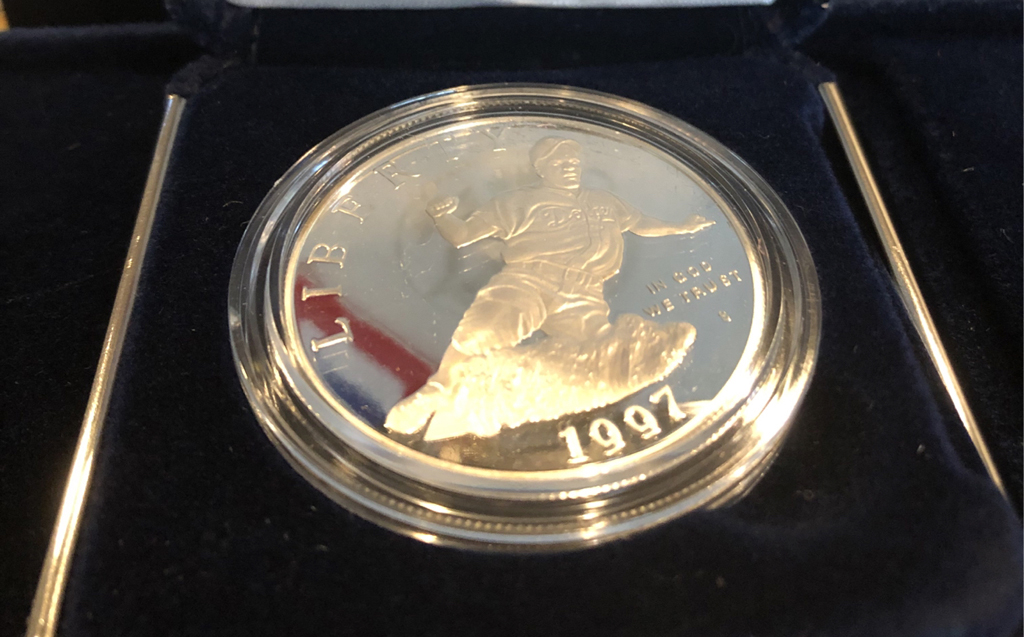 Q: Now that most of us are working from home 100%, what are some new things you're doing?
A: Wednesday afternoons I spend with my son, either biking or bowling. One of my team members calls it "wellness Wednesdays." Although I can't honor it every single week, it has been great for both of us. At first, I thought, "I have emails" or "I've got to attend that meeting." Now, I carve out that time knowing I can come back and finish work later.
Q: Any special guests during your work day?
A: Yes, my dog Emma. She's a 14-year-old rescue who keeps me company. Isn't she photogenic? She sits quietly next to me, listening to me talk and laugh during the day. When I get up from my desk (because I'm there so often), she wakes up to see what I'm doing. She is my constant companion during my workday, and I let her think she's my protector.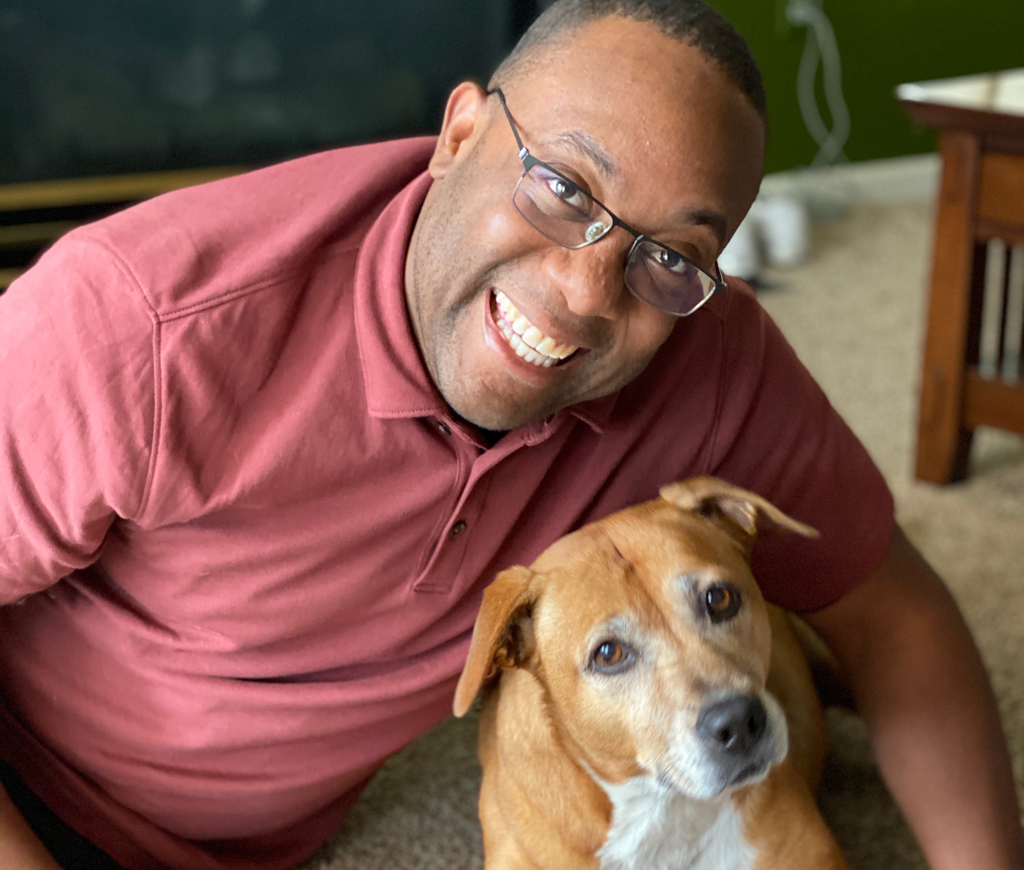 Q: What are you most excited about working at Cisco right now?
A: The opportunity to support leaders to drive meaningful change. I've worked for GE, Home Depot, and Nestle, and I've been incredibly impressed with the engagement and attentiveness of Cisco Leaders regarding Diversity and Inclusion. It's a true dialog with our leaders and they are actively listening and curious. I believe the ability to maximize the exponential power of diverse teams will be the single most important leadership capability of the future! And I feel as though our leaders are ready for the challenge.
Q: Alex, being an inclusion leader, what does innovation mean to you?
A: This is a great question! Innovation in the spirit of inclusion is how someone can change their mindset to work, collaborate and engage differently with diverse talent. The purpose is to leverage everyone's unique strengths. I don't believe we can give a leader a tool or a process to change someone's mindset. It comes from within by challenging their own bias, affinities or stereotypes. I believe the most impactful way to change is experiential. People will need to engage closely with women and minorities in an authentic, vulnerable, and transparent way to truly appreciate the challenges.
Q: Thank you Alex, I really enjoyed our conversation.
A: Thank you! I'll see you on Webex!
###
We welcome the re-use, republication, and distribution of "The Network" content. Please credit us with the following information: Used with the permission of http://thenetwork.cisco.com/.