"Changes are more unpredictable and faster than ever before," Oliver Tuszik, Cisco's SVP for global partner organization, said at the company's Partner Summit event last week. "And this can have a massive impact on your competitive situation. Agility is key to allow you to stay relevant." Being ready for an unpredictable future — and responding to change with speed, agility, and resilience — was a critical theme for the event.
But preparing for the next challenge or opportunity means adopting technology that enables that agility, along with ease of use and simplicity — even in a complex, multicloud environment. In a Tech Leaders Q&A session, Todd Nightingale, Cisco's SVP and general manager for enterprise networking and cloud, and Jeetu Patel, SVP and general manager for security and applications, laid out some of the core concepts driving Cisco's newest technologies.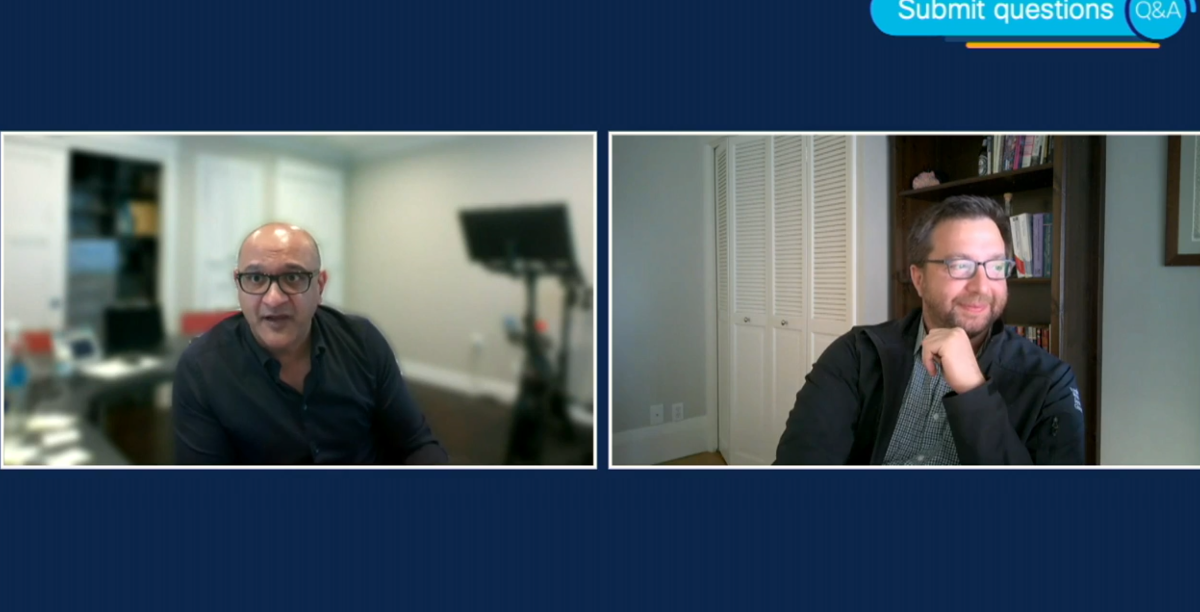 "Cisco has built the most powerful, flexible networking infrastructure technology for years," Nightingale said, "but we can make it easier for everyone to adopt, not just the basic functionality, but all the functionality. We talk about this as the power of democratizing Cisco technology."
IT's new 'superpower'
All of the technologies discussed at Partner Summit support the key goals of providing agility, speed, and resilience to customers in a cloud-first world — not to mention, an uncertain world, as we've seen throughout the pandemic.
"Everyone has to learn how to react more quickly," Nightingale said. "Not just now through this change, but for years to come. The new measure by which technology groups will hold themselves is agility. That's why we've been talking so much about agility being the new superpower for IT."
Agility demands an infrastructure that enables you to navigate across multiple clouds, capture critical insights, and detect and manage security threats. In that complex environment, ease of operation is key.
"One of the big areas that we are going to double down and focus on is simplicity," said Patel. "AndMaking sure that every single product of ours, every single experience that we have with customers, with partners, we try to simplify it as much as possible."
That includes every end user, Patel added.
"Every single one of the personas we serve," he said, "should just love the experience that we deliver to them. The least technical person and the uber technical person should have a delightful experience. And we'll continue that quest."
An agile platform strategy
IT and security teams can be overwhelmed by the sheer number of technology tools and solutions they need to do their jobs. Cisco can help by delivering automation and insights through a focused set of agile platforms. This creates a simpler environment, and with greater simplicity comes increased agility and faster speeds.
"I'm talking about being able to transform your infrastructure with the click of a button," Nightingale said, "We're going to be delivering insights and automation and best-in-class agility through a platform strategy at Cisco."
"We will focus the dozens of different management products across our portfolio on a small number of high-value agile platforms," he continued. "We're talking about transforming our customer's infrastructure, using DNA Center, Meraki and vManage; securing their data using Secure X; empowering their teams using Webex, and re-imagining their applications with Nexus Dashboard, Intersight and AppDynamics.
It's all about responding fast: to competitive changes, to customer demands, or to unexpected events.
"Being truly agile, being able to react, is how we measure success," said Nightingale. "At Cisco, we sent practically our entire workforce home over night, and it was only because of our IT agility that we were able to do that."
Delighting customers — all customers
As Patel said, Cisco strives to make every experience 10x better, and the company is turning to emerging technologies to make it happen.
"We've made some formidable investments over the years in artificial intelligence and machine learning," Patel said, "which have now started delivering their dividends with a great, great experience.
For Webex, that includes a new feature made possible by Cisco's acquisition of BabbleLabs. It will go a long way towards eliminating a key source of stress for remote workers: noise.
"Through machine learning," Patel said, "we're able to segment out the background noise from human sound and from human speech specifically. So, if it's a child screaming, that's a human sound, but they know how to take it out. If it's a bag of chips, or your neighbor has a lawnmower, all those thigs will be suppressed. But if it's a person speaking in any language, they can amplify it. By October 30th, more than 500 million users are going to have this benefit embedded in."
See also: Thriving in a hybrid, multicloud, app-first world
Of course, the hybrid, multicloud environment adds its own complexity. And making the experience seamless and secure is crucial. That starts with observability, knowing what's happening across your infrastructure and beyond, to multiple clouds and cloud-based apps. Nightingale shared how emerging technologies are enabling an all-around better cloud experience.
"Agility is only really delivered through insights and automation," Nightingale said. "The ultimate in insights is end-to-end visibility. And that's why we just purchased ThousandEyes. It really gives you unprecedented visibility across the entire experience from the user through the private networks, into the internet, all the way in, through the SAS clouds as well. That visibility is so, so crucial."
In an opening statement at Partner Summit, Cisco CEO Chuck Robbins reiterated Cisco's core purpose: powering an inclusive future with technology innovation. And Patel concluded by connecting the great new innovations discussed in the session with that higher purpose.
"Opportunity is unevenly distributed throughout the world," he said. "Even though human potential is not. So, wouldn't it be great if any person, regardless of socioeconomic advantage, regardless of geography or the language they speak, could have the opportunity to participate in the global economy. We hope that's what all of these innovations will bring."
###
We welcome the re-use, republication, and distribution of "The Network" content. Please credit us with the following information: Used with the permission of http://thenetwork.cisco.com/.