The 3rd annual Great Place to Work® For All™ 2020 Leadership Awards were held at the Four Seasons in San Francisco last night, bringing together industry leaders and CEOs whose companies made top lists through the last few years. That includes Fortune's 2020 list of the 100 Best Companies to Work For, 2019 Fortune Top 100 Companies, 2018 Best Workplaces for Diversity, 2019 Best Workplaces for Women, and 2019 Best Small & Medium Business Workplaces. Cisco took home the number 4 ranking in the 100 Best Companies to Work For list, sweeping another top spot in addition to the company's number one ranking in the World's Best Places to Work list.
The list, crafted by the global authority on employee experience and workplace culture Great Place to Work, is in partnership with Fortune. The survey found that an overwhelming 95 percent or more of employees found that Cisco is a safe place to work and that they are treated fairly regardless of sexual orientation or race. In addition, employees felt they could also take off work when necessary.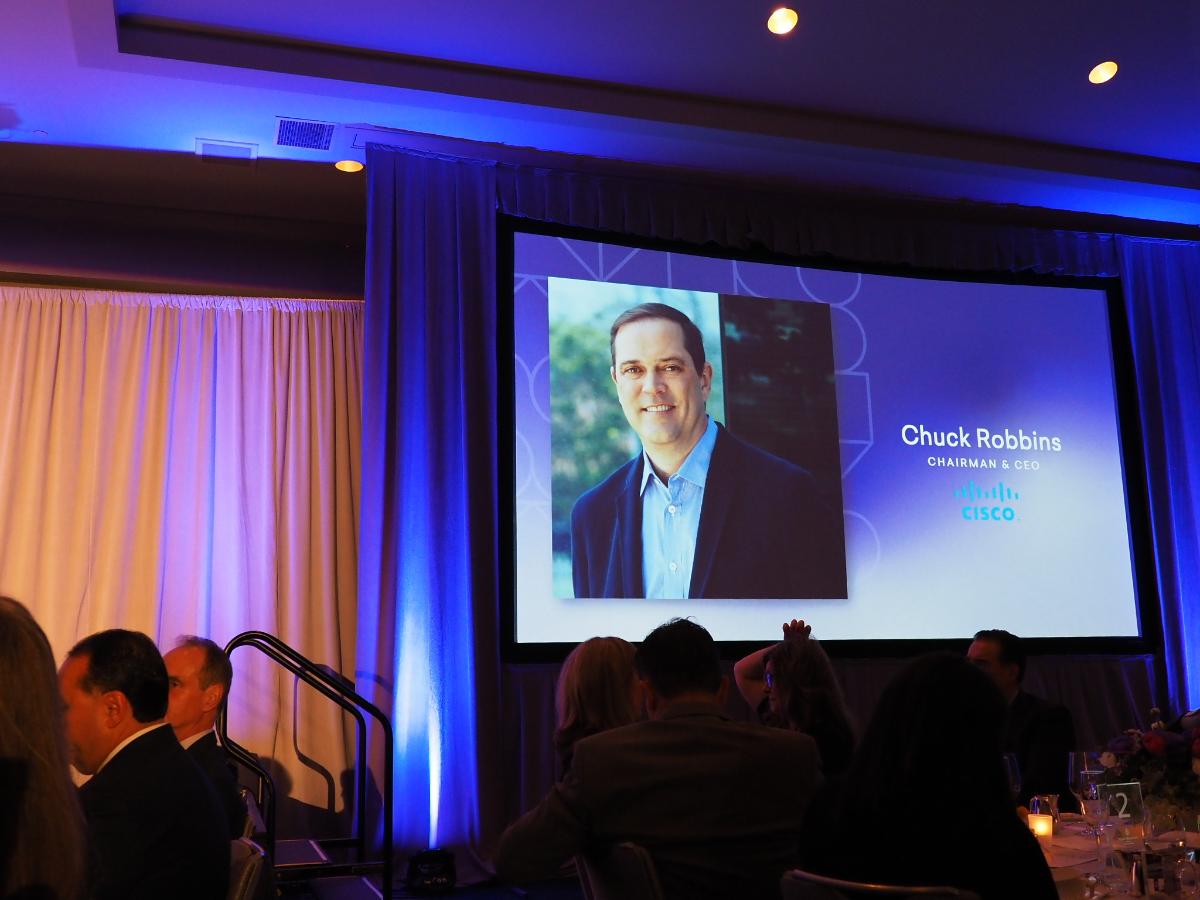 In addition, two Cisco leaders were named recipients of the 2020 For All Leadership Awards, including CEO and Chairman Chuck Robbins and SVP of Corporate Affairs Tae Yoo. Robbins was given the CEO Great Place to Work® For All Leadership Award, an honor given to leaders who have built a workplace with inclusivity and emotional and psychological safety within the organization.
Robbins told the audience in a video message that ranking as one of the best companies to work for was one of his proudest achievements.
"This means a great deal to me, as one of the proudest moments in my career at Cisco thus far, was being recognized as the number one Best Place to Work in the World by Great Places to Work," said Robbins, "It's a true testament to the success we've seen in our business, but also our greater purpose. How our people feel about working at Cisco, and the impact we're making in our communities."
Cisco's Rola Dagher writes that the company is focusing on building a culture of the future, specifically focusing on four areas:
Diversity and inclusion: The diversity of experiences, ideas, and approaches is crucial for growth and just plain good for business.
Nurturing EQ: Cisco is looking for employees with high emotional quotient, people who can adapt, lead, and inspire.
Equip our employees: The company aims to help employees succeed, whether that means taking time off to care for someone or living and working remotely, Cisco provides the tools to make it work.
Make a difference: Cisco's Time2Give program gives employees 40 hours a year to volunteer. Fiscal year 2019 saw 51 percent of employees donating or volunteering with their time, according to Cisco's 2019 Corporate Social Responsibility Report.
Robbins and his leadership team have made strides towards a high-trust, high-performing workplace culture since his institution as CEO in 2015, including massive initiatives to house the homeless, increase mental health awareness, and more.
Conscious culture and mental health
"Conscious culture" is what Cisco calls its company culture strategy, and as Patrick Moorhead writes in this 2019 Forbes piece, it's all about practicing self-awareness of the environment they are a part of. The company wants this inclusive environment to positively impact people, society, and the planet.
In 2018, after national concerns grew in the United States about mental health and suicide, Robbins sent an email to all employees expressing concern for anyone struggling with mental health issues. In the email sent to more than 75,000 employees, Robbins stressed the importance of finding a support network. And the outreach was met with a surprising number of responses—more than 100 employees responded to the email, explaining their own struggles and appreciation for Robbins' note.
Opening up the conversation about mental health in the workplace was crucial in reducing the stigma around it.
Impact in communities
A large and crucial part of Cisco's Conscious Culture initiative is giving back. "Giving Back" is one of Cisco's main tenants, and the company's Corporate Social Responsibility (CSR) efforts always drives back to the purpose of being the bridge between hope and possibility. This means that Cisco can connect and uplift people beyond just networking—it's educating students, reducing gas emissions, and providing funding to crucial need.
One of the biggest programs that Robbins has worked on is his commitment to homelessness and to the company's partnership with Destination: Home. Destination: Home is a non-profit organization that helps build supportive housing for those without homes, as well as helping prevent people from becoming homeless in the Santa Clara County, California, area. With Cisco's $50 million commitment to Destination: Home, the Supportive Housing & Innovation Fund was able to fund more than 1200 new housing units and help over 800 families and individuals.
See also: Second Street Studios help create homes for those in need
469 million people have been positively impacted as of FY19, becoming closer by the day to the goal of impacting 1 billion people by 2025. Cisco is committed to empowering employees and the communities around them by being the bridge between hope and possible.
###
We welcome the re-use, republication, and distribution of "The Network" content. Please credit us with the following information: Used with the permission of http://thenetwork.cisco.com/.