The pace is gathering behind the development of Autonomous Vehicles (AVs), and with that, an increasing understanding that these vehicles are going to need better ways to connect and share the high-value data that they generate. With the Wireless Broadband Alliance writing that more than 125 million connected car shipments are expected by 2022, AVs represent just the 'tip of the spear'.
See also: OpenRoaming explained
The automotive industry is focused on the massive amounts of data these vehicles will need to communicate. In fact, AVs generate 1.2 TB of data in a 16-hour day and make 150 independent vehicle detections every second. The data is generated from sensing systems such as LIDAR (Light Detection and Ranging) sensors, RADAR and video cameras, alongside Advanced Driver Assistance Systems logs; too large to push over a cellular network.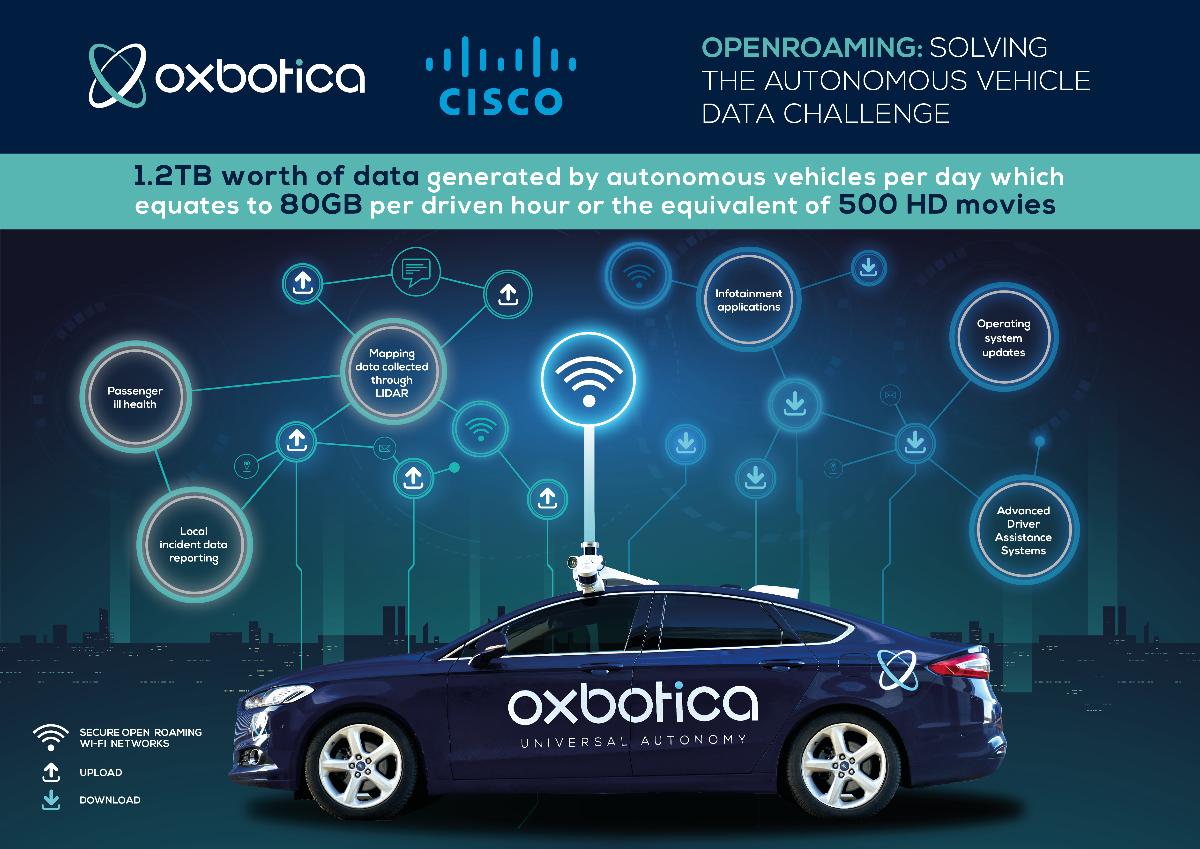 AVs need a better method of transferring high-value, high-volume data easily, efficiently, and cost-effectively, and Cisco's OpenRoaming and Wi-Fi 6 access points provide just that. OpenRoaming allows AVs and mobile users to automatically roam between Wi-Fi and cellular networks. Using OpenRoaming, AVs can connect to trusted Wi-Fi networks without the need to enter usernames or passwords. Instead, AVs authenticate using credentials issued by the AV manufacturer, like Oxbotica.
Oxbotica, a global leader in autonomous vehicle software, realized that AV fleets will need 'copper-free' data communication. The Next Generation Connected Vehicles Co-Innovation between Oxbotica and Cisco puts in place a key component towards Oxbotica's vision of Universal Autonomy. It will allow Oxbotica's customers to customize and integrate an autonomy solution into their products, deploying across various fleet networks and enabling secure, cost-effective data transfers.
How OpenRoaming will work for AVs
With this partnership, Oxbotica AVs are able to connect to OpenRoaming-enabled hotspots. Communications are secured using Cisco's cloud enterprise network security platform, Umbrella, with data being uploaded to Oxbotica's cloud.
"While some data is required while the AV is in motion, most data can be gathered when the AV is stationary," says Joel Obstfeld, the Distinguished Engineer at Cisco who's led the collaboration with Oxbotica's engineers, "AVs, and in the near future, Connected Cars, are going to need more locations where they can transfer their high-value data. Parking garages, electric vehicle charging points, gas station forecourt, and vehicle servicing centers are just a few of the locations where OpenRoaming and Wi-Fi 6 could be deployed."
Combined with Wi-Fi 6 and 5G, OpenRoaming creates the potential for superfast and seamless connectivity. Cisco's Wi-Fi 6 Access Points offers faster speeds, improved capacity, and lower latency. While Wi-Fi 6 is perfect for indoor arenas, 5G is better suited for outdoor areas—this means users will enjoy connectivity wherever they are.
See also: Autonomous trucks to deliver packages to your doorstep
OpenRoaming isn't just for AVs, it's game-changing for users in dense areas like airports, retail stores, arenas, and more. The connectivity tech allows people to join wireless networks across enterprise, consumer, and public markets. OpenRoaming connects identity providers, service providers, and enterprises to share the needed credentials across networks. And good news for AV passengers too —Wi-Fi can be used with a vehicle's cellular wide-area connection to provide local connectivity to Wi-Fi enabled devices.
Read more about OpenRoaming by clicking here.
###
We welcome the re-use, republication, and distribution of "The Network" content. Please credit us with the following information: Used with the permission of http://thenetwork.cisco.com/.