It wasn't just Cisco that showed off game-changing innovations at Cisco® Live!™ 2020 in Barcelona, Spain. The show featured more than 130 partners. Many were big-name tech brands, such as NetApp, Veeam Software, Orange Business Services, CDW, and IBM.
But among these IT giants was a select group of smaller companies on the very cutting edge of innovation. Eight start-ups in the Cisco Investments Village had not just caught the eye of Cisco execs, but had snagged serious backing, too. Here's a selection of the firms on show.
BehavioSec
From the thumbprint entry system in your office to the phone that knows your face, most of us are now used to biometric ID systems. And as well as fingers and faces, tech is learning to read other human traits, such as voices.
The Swedish-American firm BehavioSec aims to take things a step further with what it calls behavioral biometrics. This involves tracking the way you use devices such tablets or mobile phones, through the gestures you use to swipe and tap, for instance.
See also: The inclusive future of mobile technology
This allows third parties such as banks or shops to check you are who you say you are online, without even asking you to give them a fingerprint. And as well as helping with online banking, the system could be used for mundane tasks, like stopping your kids from using your iPad.
"We can even tell the difference between a husband and a wife," says Simon Naldoza, a consultant at the company.
Involvio
Higher education faces a challenge. More people than ever are getting college degrees. But more people than ever are dropping out, too. Involvio, of New York, USA, has the answer. The firm has a mobile app that students can use during their college years.
It starts with a pack to help you find your way around campus. Then it helps you find and attend student events. And it tracks when you go to class (automatically in colleges with a Cisco wireless network).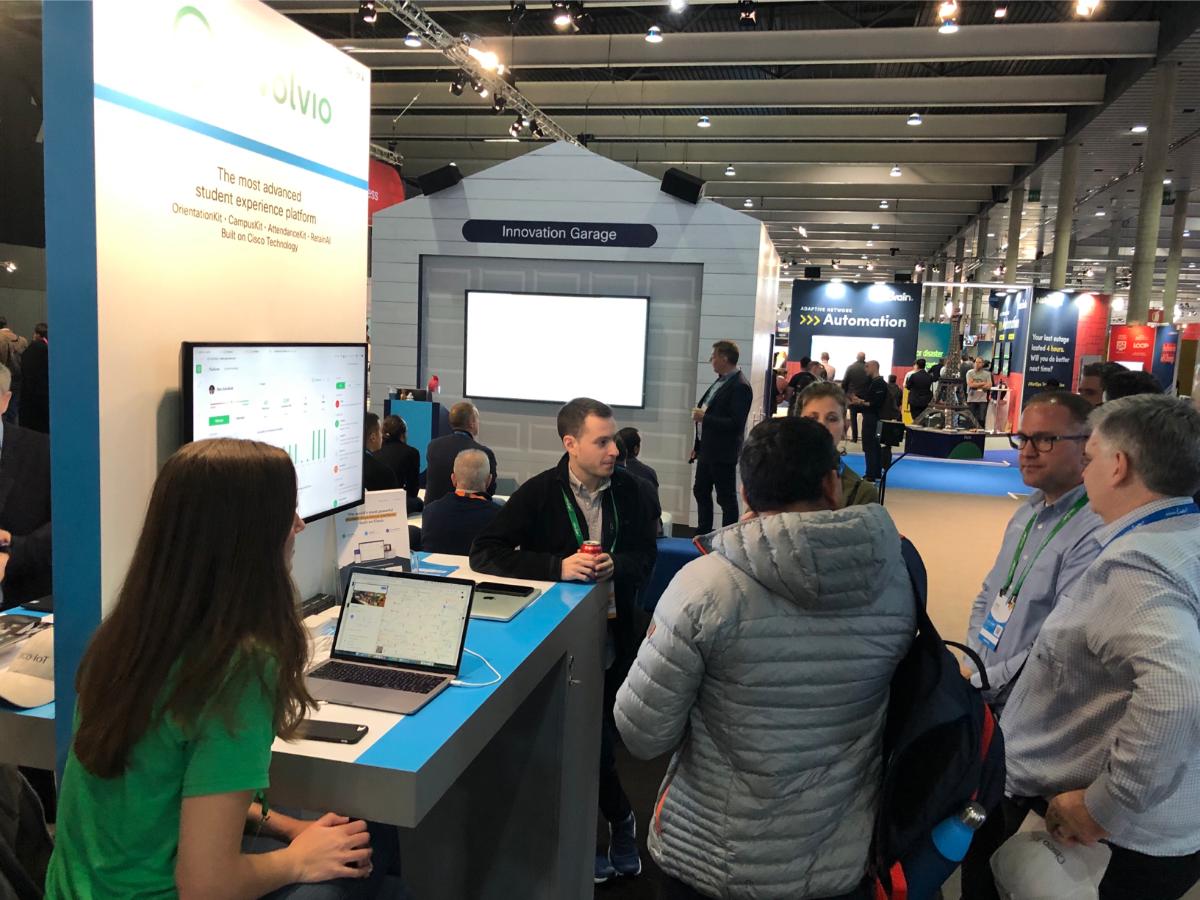 Tutors can track attendance and step in if there appears to be a problem, which can lead to fewer dropouts. And Involvio has just launched a safety alarm that students can use if they get into trouble. Universities from the U.S. to Australia are keen to roll out the app, says Involvio's Chris Babbitt.
"We have hundreds of campuses worldwide," he says.
NS1
One of the data points cited by Cisco exec Liz Centoni at Cisco Live! was the fact that users will only give an app between three and six seconds to load before they abandon the task. And banks or streaming firms need to connect to their customers even faster.
Lights. Camera. Action! We're live with @NS1 on the #CLEUR Daily Show! #ciscoinvests pic.twitter.com/BFBEuTlDwN

— Cisco Investments (@Cisco_Invests) January 28, 2020
NS1 cuts the delay by speeding up the Domain Name System handshake at the start of every Internet connection. The company's technology has been adopted by the likes of Salesforce and Dropbox. It "takes delays down from seconds to milliseconds," says company evangelist Chris Bujis.
Rookout
You've worked hard on your code. It all looks fine on your laptop. So, you release it into the wild and… there's a bug. In the old days, chances are you would have had to wait weeks or even months to get hold of the data you need to fix the problem. Not so with Rookout.
The company's platform can collect data from live code whenever you need it, allowing you to debug your software on the fly. Where before you faced a long wait to sort out your code, "Rookout reduces that to seconds," says co-founder Liran Haimovitch.
###
We welcome the re-use, republication, and distribution of "The Network" content. Please credit us with the following information: Used with the permission of http://thenetwork.cisco.com/.