London's Royal Albert Hall shone gloriously bright on the night of December 13th, as Cisco executives, employees, and guests made their way into the historic and treasured building for a night of celebration. The event was in recognition of the Global Citizen Prize, a ceremony that honors the individuals who have made strides to end extreme poverty. Cisco partners with non-profit and event host Global Citizen to present the Global Citizen Prize: Cisco Youth Leadership Award, a $250,000 prize for a young person who is positively impacting the world and who demonstrates the impact that young people are having on achieving the UN Global Goals. In addition, prizes for Artist, World Leader, Business Leader, and Global Citizen of the Year were announced at the event.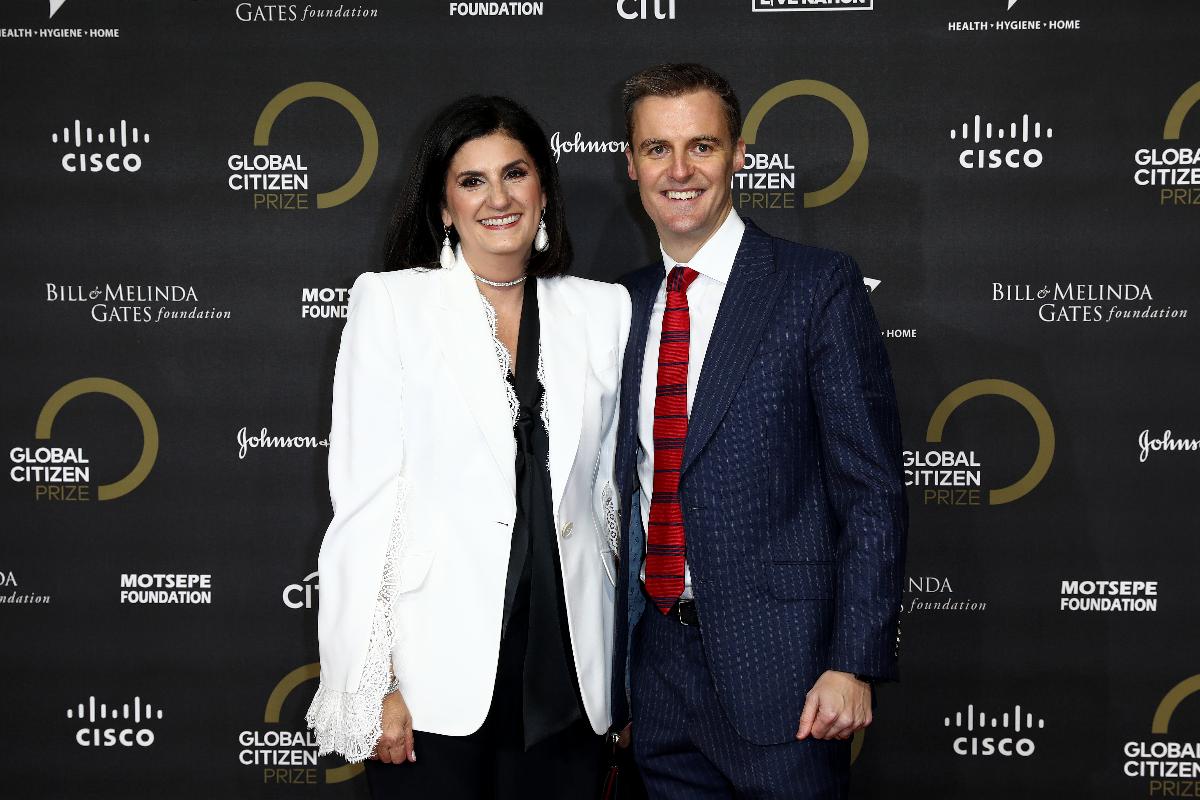 Fran Katsoudas and Global Citizen co-founder Hugh Evans, photo by Tim P. Whitby/Getty Images for Global Citizen
Artists like John Legend, Jennifer Hudson, H.E.R., Chris Martin, Sting, and more helped bring the magic to Royal Albert Hall with speeches and musical performances. Cisco Executive Vice President and Chief People Officer Fran Katsoudas also took the stage to announce this year's Cisco Youth Leadership Award winner. Katsoudas presented the 2019 prize to Priya Prakash, a healthcare entrepreneur and the founder and CEO of HealthSetGo. HealthSetGo is India's largest healthcare organization that supports the UN's goals and ensures that every child in India grows healthy and disease-free. Prakash was part of a prestigious finalist group that included four other engaged Global Citizens who are each doing meaningful work to make the world a better place.
The winner
As a young woman in India, Prakash felt the effect of bullying because of her weight. After shifting her own eating habits and discovering weightlifting in college, Prakash was inspired to help others lead healthier lifestyles. Prakash was inspired by both her mother and First Lady Michelle Obama to help end childhood obesity in schools. In addition, she works to prevent children from experiencing mental and physical health issues with her organization HealthSetGo.
"Non Communicable Diseases (NCDs) are the number one cause of mortality in India causing 61 percent of all deaths," says Prakash, "We are the Diabetes and Cancer capital of the world and on our way to becoming the most depressed country. With one doctor per 10,189 people, this growing burden of disease is driving up costs - making healthcare inaccessible, unaffordable and unsustainable. With the vision of 'Every Child Healthy'—today, HealthSetGo is making preventive healthcare affordable and accessible to thousands of children in India through a one of it's kind School Health Program. We focus on monitoring every child's long term growth and development at school, tangible behavior change through education, ensuring health safety and infrastructure, benchmarking schools and complying to existing global standards and lastly building an empowered community of parents and educators."
HealthSetGo uses healthcare technology to empower parents, doctors, schools, and governments to make data-based decisions for the health of the students. The organization detects and diagnoses any disease, and administers vaccinations or other treatments. Children's health information is provided to their parents between the child's age of two and 17. By being able access a student's "health report cards" over time, HealthSetGo bridges the gap between education and healthcare. The organization has impacted more than 200,000 children and parents in India across more than 77 cities, and it hopes to reach 1 million people by 2023.
"The experience of getting the award has been one of the highlights of my life. It was overwhelming to see the trust and belief of Global Citizen and Cisco in HealthSetGo to fulfil the mission and vision of creating meaningful impact," says Prakash, "Making an impact cannot be done alone and this award will provide the platform and support that would tremendously benefit our work. For a small team trying to address a huge problem, access to opportunities can be extremely difficult. Being a female entrepreneur and running a business are things that can play to a disadvantage in India. Recognition from an award such as this at that global level would help us build credibility and partner with organisations which can amplify our impact. I have passion, vision and time by my side, but the exposure that would come with this award is something which is invaluable. Getting a global right platform to raise a voice about the importance of health for children means a lot. I can now dream even bigger!"
As a part of the Global Citizen Prize: Cisco Youth Leadership Award group of finalists, Prakash and others knew they wanted to shape the world like never before. With compassion and innovative thinking, Prakash was able to create a technology solution for a widespread human issue.
The founder and CEO aims to use the $250,000 in prize money to continue providing access to health care services, and to create a sustainable model so that HealthSetGo can support itself.
"Having Cisco by our side, I'm certain that our commitment of impacting 1 Million children by 2023, can be achieved even sooner," says Prakash, "Over the next 12 months, we will set in motion the systems and processes required to scale our organisation with the support and mentorship of Cisco. Having interacted closely with the team, we will leverage Cisco's technical expertise and experience In building scalable, innovative interventions which will not only help us grow exponentially in 2020, but create a pathway for us for years to come."
Cisco and Global Citizen: Forces for good
Cisco and Global Citizen have formed a strong partnership through the shared goal of making the world a better place. Global Citizen works to build a movement of 100 million people who take actions like making pledges, signing peitions, and contacting elected officials—all for the vision of ending extreme poverty by 2030. Cisco's Corporate Social Responsibility efforts are similar: to accelerate global problem solving to benefit people, society, and the planet, as well as to positively impact 1 billion people by 2025.
This shared vision has become a strong anchor for Cisco and Global Citizen's partnership—2019 is the second official year of the Cisco Youth Leadership Award. The 2018 award winner, Wawira Njiru, was announced in Johannesburg, South Africa by Cisco CEO Chuck Robbins and artist Usher. Njiru won $250,000 for her work with Food 4 Education, a non-profit that aims to provide nutritious meals to primary school children to improve education outcomes.
The prize money works to accelerate the winner's goals. Through the partnership with Cisco, Food 4 Education was able to develop a technology called Tap 2 Eat, a wristband device that students can wear. Parents can utilize mobile money on their phones, which is then transferred to the wristband. With a quick scan, students are able to easily pick up their lunch.
Cisco and Global Citizen are working together to empower young people across the world to become change makers for years to come. In September 2019, Katsoudas announced that Cisco will commit $750,000 over the next three years for the Global Citizen Prize: Cisco Youth Leadership Award – bringing our total commitment to $1 million over four years to support young changemakers like Prakash.
Cisco's commitment to Global Problem Solvers
The Global Citizen Prize: Cisco Youth Leadership Award is just one way that Cisco is committed to helping young individuals do good in the world. The Cisco Global Problem Solver Challenge, founded in 2016, awards $350,000 USD in prize money annually to students and recent graduates to who have developed technology solutions to social and environmental problems.
We are accepting applications for this year's Cisco Global Problem Solver Challenge until January 17—learn more about how you can get involved here.
###
We welcome the re-use, republication, and distribution of "The Network" content. Please credit us with the following information: Used with the permission of http://thenetwork.cisco.com/.