The Pioneer Awards, Cisco's annual "Oscars of engineering", took place on October 30th at San Jose City Hall's Rotunda. In attendance were Cisco leaders and some of the company's best engineering talent, all gathered together to celebrate and recognize new technology innovation and the people behind the products.
This award ceremony has been a Cisco staple for more than two decades, and the process of nominating and becoming a finalist continues to be selective and discerning. The Pioneer Awards acknowledges the ways in which engineering teams transform the industry and the way the company does business. Innovation is crucial at Cisco because teams can positively impact the business and the tech field at large.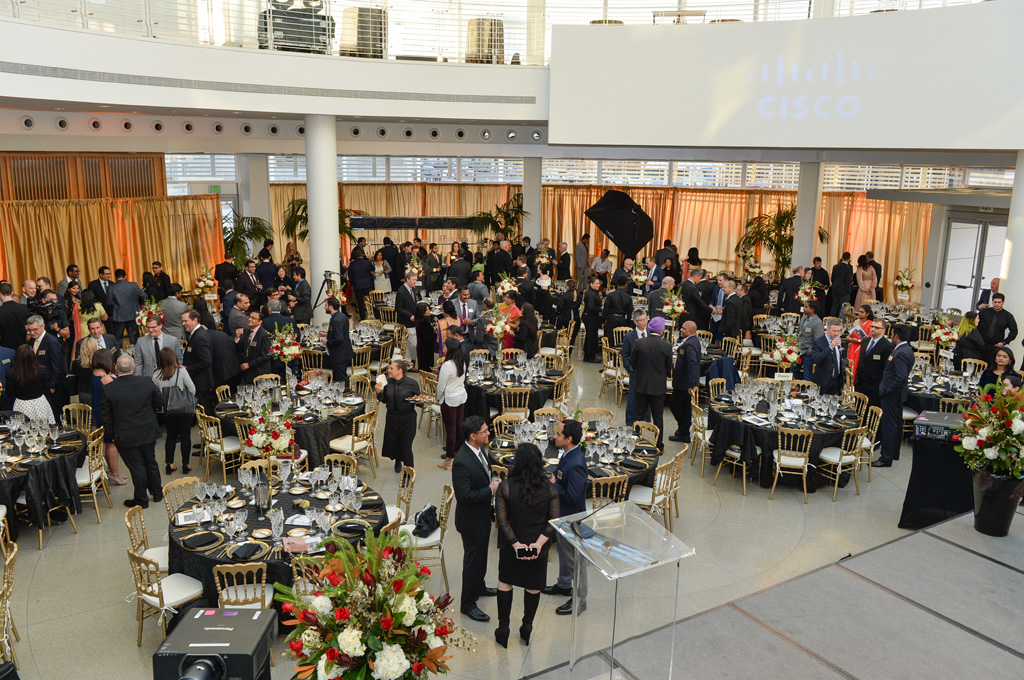 Engineering teams are nominated in either the Core Technology, Product Innovation, or Productivity Solution Category.
For the Core Technology category, the technology must be a demonstrated working prototype, it needs to have been used by more than one Cisco team, it must be in a path to win in the market, it has customer support and cross-functional teamwork. Product category finalists must evolve the Internet, it needs to have been available in the market for at least 12 months, and it needs to have strong customer testimonials. For Productivity solutions, finalists must also have demonstrated use, testimonials, and it must significantly improve the productivity of Cisco engineers.
This year, the three winners included the Cisco 8000 (Spitfire), Aironet 4800 Series Access Points, and Polaris WARP. Let's break down each of these technologies and learn why they stood out amongst the rest:
Cisco 8000 (Spitfire)
One of Cisco's latest innovations is the Cisco 8000 (Spitfire). It is a highly efficient routing system with the industry's first 10 terabyte programmable routing silicon and innovations across silicon, hardware, software and system design, and it won the Pioneer Award this year for the Core Technology category. What used to require a large amount of power can now be accomplished in one tenth of that—it also achieves 16 times cost reduction and 23 times rack space reduction.
"This is a game changing, revolutionary product which has come to signify a new era in networking infrastructure," says Director of Engineering Venkatesh Dattathri.
Cisco IOS-XR is the company's Internetworking Operating System that is used on routers. Cisco 8000(Spitfire) turns a new leaf in the chapter of IOS-XR, which defines a new class of cloud enhanced network OS and sets the bar in the industry for trusted infrastructure. IOS XR 7 also enables operational simplification via automation, delivers modular and reusable software components for use across Cisco. With this new operational simplicity, customers' cost of ownership goes down.
There is big impact for Cisco as well—the technologies and software can be leveraged across the company to deliver products that can cater to a wide range of market segments including traditional service providers, massively scaled data center, enterprise, access and 5G networks. This means it is cost effective and it can quicken a product's time to market.
Aironet 4800 Series Access Points
Winning the Product category, the Aironet 4800 is a wireless access point that provides end-to-end connectivity and is both a hardware and software solution for customers. Aironet's Location Based Intelligent Capture is able to monitor wireless clients and look for any anomalies. Troubleshooting wireless connectivity issues is now made easy by leveraging information at real time with the help of the intelligence packet capture solution.
Before this innovation, network administrators would have to be sent to a specific site to troubleshoot problems, which is extremely challenging for most customers, and especially for this with large campuses and multiple branches.
"We're able to provide the ability to troubleshoot without sending anyone anywhere," says engineering manager Brian Levin.
SVP of Engineering Anand Oswal, whose teams Aironet and Polaris WARP both received Pioneer Awards, says that the wireless access point guarantees assurance.
"This is a next gen Wi-Fi access point," says Oswal, "If you are on your laptop right now and your Wi-Fi is not working, it can know exactly what's happening to you as a user. It can tell you whether it's a device problem, a network problem, an application problem. It's able to give you assurance for your service."
Polaris WARP
Productivity category winner Polaris WARP represents a shift from closed-source, proprietary software to an open source system. The goal is to increase developer productivity by providing some of the best-of-breed industry tools. With thousands of engineers modifying tens of millions of lines of code, it can be difficult to scale any changes.
Polaris WARP technology can find bugs and where they were introduced in a completely automated fashion. By automatically triaging bugs and issues without any user intervention, developers can save a lot of time.
Engineering manager Stephane Beaulieu from the Polaris WARP team explains why engineering productivity solutions can create huge impact for a company like Cisco.
"If we provide, let's say, a 20 percent productivity improvement with the technology, that's two hundred million dollars a year that we're saving," says Beaulieu, "In addition, it's also about feature velocity—the ability to react to customer needs faster, whether it's new features or the ability to deliver bug fixes. And then there's a tangential benefit to your community. Thousands of engineers are now coming to work every day and they're happier because they're able to spend more time doing what they love, which is writing new code. It makes it a lot easier for us to recruit and retain talent, especially early in career folks who graduate from university or college already knowing and understanding these tools."
###
We welcome the re-use, republication, and distribution of "The Network" content. Please credit us with the following information: Used with the permission of http://thenetwork.cisco.com/.