National STEM and STEAM day takes place on November 8th, celebrating the fields of science, technology, engineering, art, and mathematics. By now, we have heard of the importance of early STEM education to prepare for a future (and current) shortage of skilled workers. Randstad conducted a survey that showed the U.S. had 3 million more STEM jobs than it had workers to fill them. In addition, they found some intriguing trends in student interests— students aged 11 to 14 are 18 percent more likely to consider math one of their favorite subjects than students aged 15 to 17.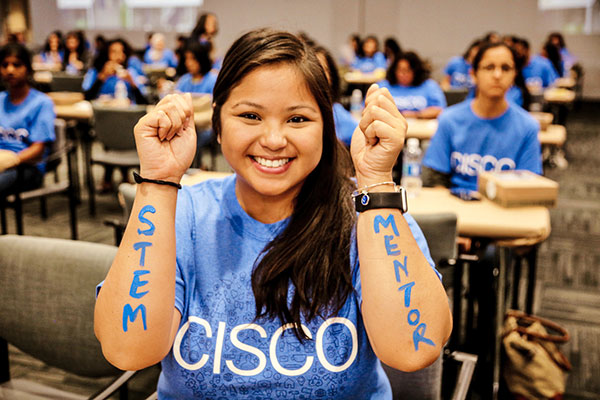 With the future workforce in need of more STEM training, Cisco believes it is crucial to start creating interest in students of all backgrounds. An inclusive digital future means using the power of digitization to create economic opportunity for all. Preparing young students and even current working-age folks for STEM careers allows different communities to thrive, now and in the future.
Here are four STEM initiatives that Cisco is currently working on:
Cyber Defense Clinic
Cybersecurity is one area of STEM that has its own skills shortage—ESG/ISSA found that 74 percent of cybersecurity professionals felt that a cybersecurity skills shortage had an impact on the organization. Cisco's Cyber Defense Clinic (CDC) is a free lab environment to encourage students to interact with cybersecurity and possibly close that skills gap in the future. These labs provide technology and training, and cover material like ransomware, phishing, breach detection, incident response, and more.
This past summer, Cisco brought six CDC students from Arizona's Paradise Valley School District to Cisco Live in San Diego.
"The program gave me a good idea of what it will be like to use cybersecurity tools in a corporate environment," said student Alyssa Norling.
This lab is available to Administrative and Instructional Staff at universities, colleges, community colleges, and advance high school programs in the U.S. Learn more here.
Girls Power Tech
Girls Power Tech (GPT) is another Cisco STEM initiative that opens opportunities for girls and young women across the globe. In 2019, the company invited close to 6,000 students to 110 Cisco sites, where they heard from leaders and Cisco employees about education and careers in technology.
With women comprising just 27 percent of workers in computer science, engineering, and physics, Cisco believes it is crucial to expose young women to STEM so that they can have the opportunity to take advantage of the wealth of future computing-related jobs.
During Girls Power Tech events, students participate in tech-building exercises, they hear from leaders, and they receive one-on-one mentorship time with Cisco employees who share about their career experience. Learn more about GPT here.
Cisco High Externship
The Cisco High Externship program, sponsored by Cisco's Americas Sales Organization, brings high school rising juniors and seniors to a local Cisco campus for a two-to-four weeks externship. Students work on problem solving, shadow Cisco employees, participate in innovation challenges, and more. The goal of this program is to introduce students to STEM fields like networking, programming, cybersecurity, and to the history and culture of Cisco itself.

In total, Cisco High Externship has seen 262 students throughout four summers. Students are invited to participate at campuses in Glendale, CA, Lawrenceville, GA, New York City, NY, Research Triangle Park, NC, Rosemont, IL, and Washington D.C. There will be an additional three locations for students to visit in 2020.
Networking Academy
Cisco Networking Academy (NetAcad) has been a source of education for more than 20 years, providing resources, training, and mentorship to over 10.9 million students in 180 countries. NetAcad is a community and collection of courses that cover everything from networking, Internet of Things, security, and more. Students can either take courses online, or in-person at a local education institution.
In addition to being one of Cisco's educational resources, NetAcad is also one of the company's Corporate Social Responsibility priorities. Because NetAcad works to train students of every background in IT, it aligns closely with Cisco's goals of creating a more inclusive future. Read more about Networking Academy here.
###
We welcome the re-use, republication, and distribution of "The Network" content. Please credit us with the following information: Used with the permission of http://thenetwork.cisco.com/.