As Hispanic Heritage Month wraps up, I'm very honored to share what Latino excellence looks like to me through the many Latinas who inspire me. These women lead with grace and strength, are highly intelligent, mas chingona and are living their vida with intention, pulling up others alongside them. They each have a huge responsibility here at Cisco in their respective organizations. I choose to honor them, because I see the beauty in their personal and professional journeys, and I would love to share why they inspire me.
I joined Cisco because I wanted to make a difference in the world. As a young girl growing up in an underserved neighborhood, a product of teen parents and a young mother myself, I had no idea tech careers even existed. As a Cisco employee, I feel that I have found my place. It gives me great pride to work for a company that is diverse in many ways and where leaders at every level can be women and Latina too!
Mujer numero uno
Maria Martinez came to Cisco 18 months ago to lead our company-wide Customer Experience (CX) motion. I'm so proud to see a woman of Hispanic Heritage make it to the EVP level in corporate America. I was fortunate to see her on stage at Cisco where we hosted the Hispanic IT Executive Council Summit (HITEC) last year in partnership with Conexion, our Latino Employee Resource Organization (ERO), where she is also a member. I listened intently as she gave the roadmap of a multi-year CX transformation journey and watched how she delivered her message; she was poised, clear on the goal and evoked a quiet strength that she and team would succeed in their current endeavor. I've definitely been taking notes, on what successful leadership looks like at Cisco so I can try to embody those same traits. Thank you, Maria for modeling Latina excellence in leadership.
I recently learned that Maria has also been fortunate to be surrounded by, extraordinary leaders and people who have shaped the person she is. Her attention to leadership came at an early age, watching her grandfather run a small business in Puerto Rico. She worked alongside him and observed how he genuinely cared about the people who worked for him and how he employed a powerful approach to collaboration. From him, she learned the value of a strong work ethic and the true art of listening to others. I definitely resonate with how Maria learned her hard work ethic and more, from her grandfather; I too learned the same from my grandparents. Here are Maria's thought's on Hispanic Heritage Month: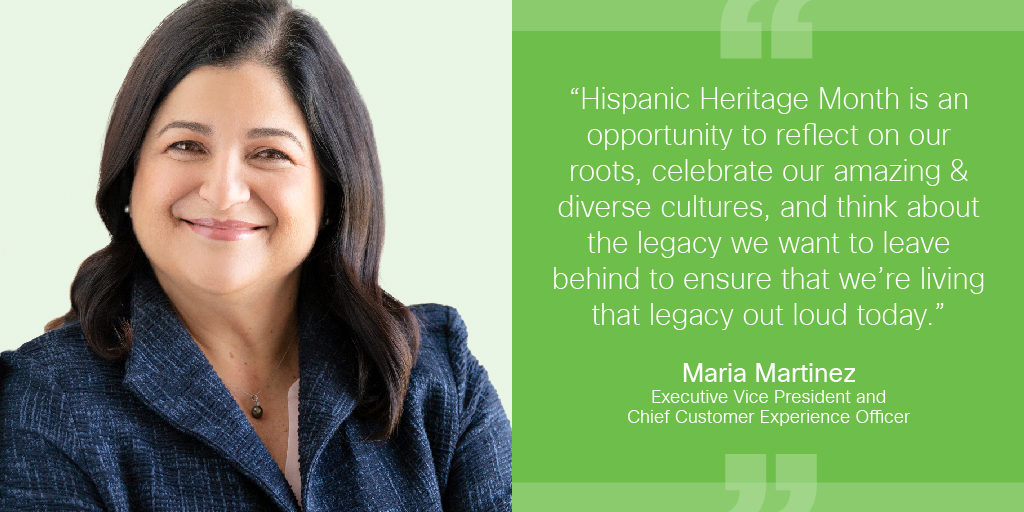 See also: Cisco Culture & People
Mujer numero dos
Laura Quintana leads one of Cisco's largest and longest-running Corporate Social Responsibility programs, the Cisco Networking Academy. As general manager, she is in charge of managing a global team that brings education and career possibilities to people globally. This provides her and her team, an awesome opportunity to change lives. The Networking Academy positively impacted 2.1 million students in 180 countries this past year and if that wasn't enough, the learning portfolio and partnerships with governments, academic institutions, and non-profits are helping to create a more diverse workforce with digital skills that are critical to compete in today's work environment.
Laura is an amazing leader here at Cisco, she is a Conexion Executive sponsor and also my mentor, but it wasn't until recently that I learned more about her and was inspired by her career journey. I see in Laura, a clear sense of determination, self-worth, excellence and a purpose with service to accomplish more in the world than just growing her professional career. To become this leader, I wondered how she got the confidence to pursue her career, who supported her and how important was education to her success.
Laura shared with me that her parents instilled in her pride in her Mexican heritage, to value education and the importance of hard work. Her dad made her feel special for speaking both Spanish and English and her mother pushed her to do well in school, and she passes this love and guidance down to her children. Laura shared with me that her education led to her engineering career and later a sponsor would guide her through her leadership journey with professional development and stretch opportunities, filled with challenges to test her capabilities.
Here is advice from Laura for young professionals starting off in their careers "Echale ganas" (give it your all). Life and work can pose many challenges, opportunities, and distractions. If you are not clear about what you want to achieve, others can't figure it out for you. Take the time to reflect and think about the things you want for yourself both personally and professionally. And then lay out an actionable plan of what you will do to get what you want… you may start by taking baby steps or leaps, but you are more likely to move forward and make progress with a plan!" Here are her thoughts on Hispanic Heritage Month: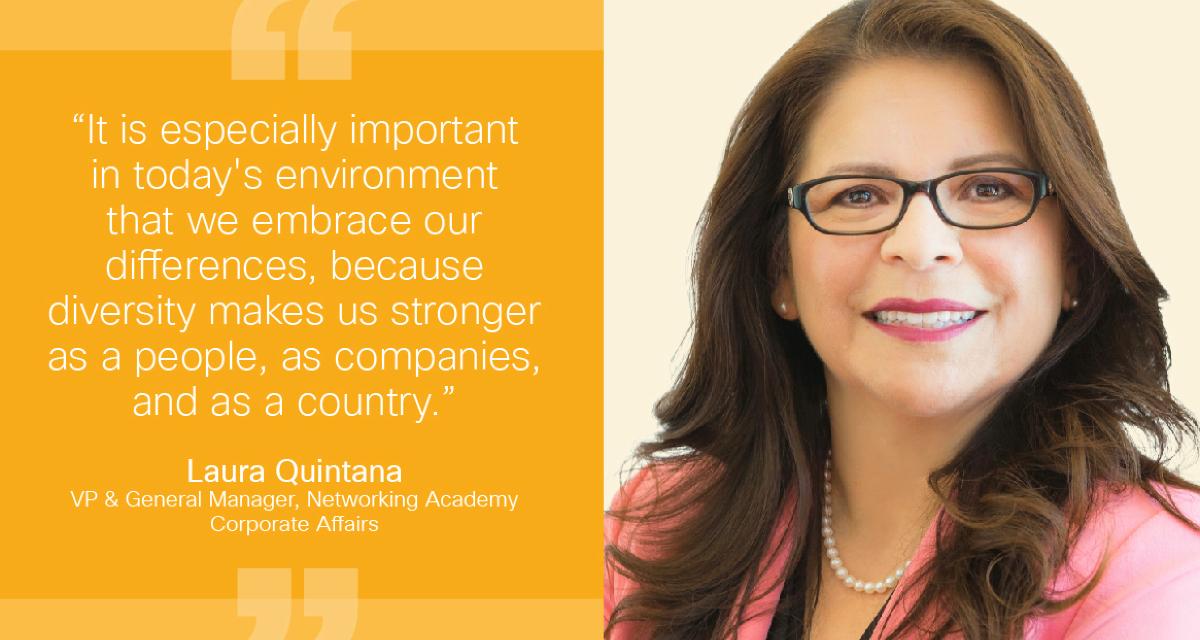 Mujer numero tres
You may recognize Maria Medrano from the Office of Inclusion and Collaboration team at Cisco, but did you know she has her master's in finance and organizational development? She came into Cisco to support organizational design and evolution for finance, evolving the Webex business model to grow revenue and was on the data and analytics team before being tapped on the shoulder to join the Diversity team. She helped Cisco grow the Office of Inclusion and Collaboration to the organization it is today. Maria had a role in organizational change, where she and team created a scalable model, that is now centralized and supports 30K+ Cisco employees, so there is equal equity within our global Employee Resource Organizations (ERO)'s. Now Maria has moved into an HR Director role, expanding her leadership experience, with people at the focal point.
Maria and I have a similar story, we are both women who had teen parents and who lived in under-served communities during our up-bring. Despite any challenges, education is the equalizer that gave us corporate opportunities. During a recent conversation, I asked Maria who has been the greatest influence in her career, and she said her parents. Her mom is super hard working and her dad gave her a humanistic component filled with values of life, how to treat people, care for what you are given with the responsibility to give back. Here are Maria's thought's on Hispanic Heritage Month: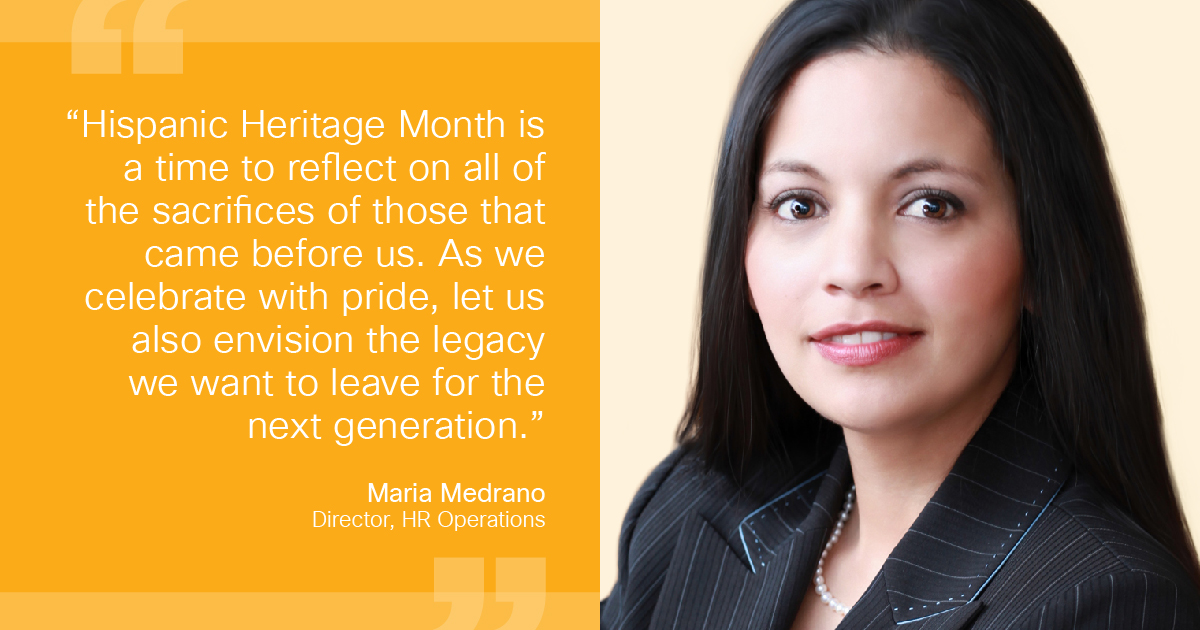 I have learned so much about these amazing leaders, Maria Martinez, Laura Quintana and Maria Medrano, and also found common threads in each of their career journeys:
Their families are at the heart of who they are and who shaped them into the women they are today
Education was key to their career pathway
They all have pride in their Hispanic Heritage
They each believe diversity leads to more innovation
They are living their legacy
I want to thank them for taking the time to share with me more about their personal and professional journeys. I also want to celebrate their accomplishments and will continue to root for their successes. I hope one day I too can become a great leader like them and hope this blog inspires a new generation of LatinX leaders.
###
We welcome the re-use, republication, and distribution of "The Network" content. Please credit us with the following information: Used with the permission of http://thenetwork.cisco.com/.