The cybersecurity researchers of tomorrow are being crafted today through programs like the Cisco Youth Cyber Leader Education (CYCLE). Cisco is passionate about initiatives that help women in tech reach their full potential, including events that encourage young women and girls to pursue an interest in STEM. One of these events is Girls Power Tech, where Cisco offices around the world invite girls from local communities to come and receive one-on-one mentorship, hear from speakers, and engage with tech activities. CYCLE is another program that comes out of the Cisco Women in Cybersecurity employee resource group and seeks to expose students to the industry and ultimately instill cybersecurity as a career option.
As attackers gain more and more intelligent methods to infiltrate the web, cybersecurity professionals and "white hats" are needed to protect such a sensitive space. Just recently, Cisco's security research group Talos found that groups of cybercriminals were using Facebook as a market to sell illegal services. Talos routinely uses its threat intelligence to discover and stop malware like Olympic Destroyer, Nyetya, and more.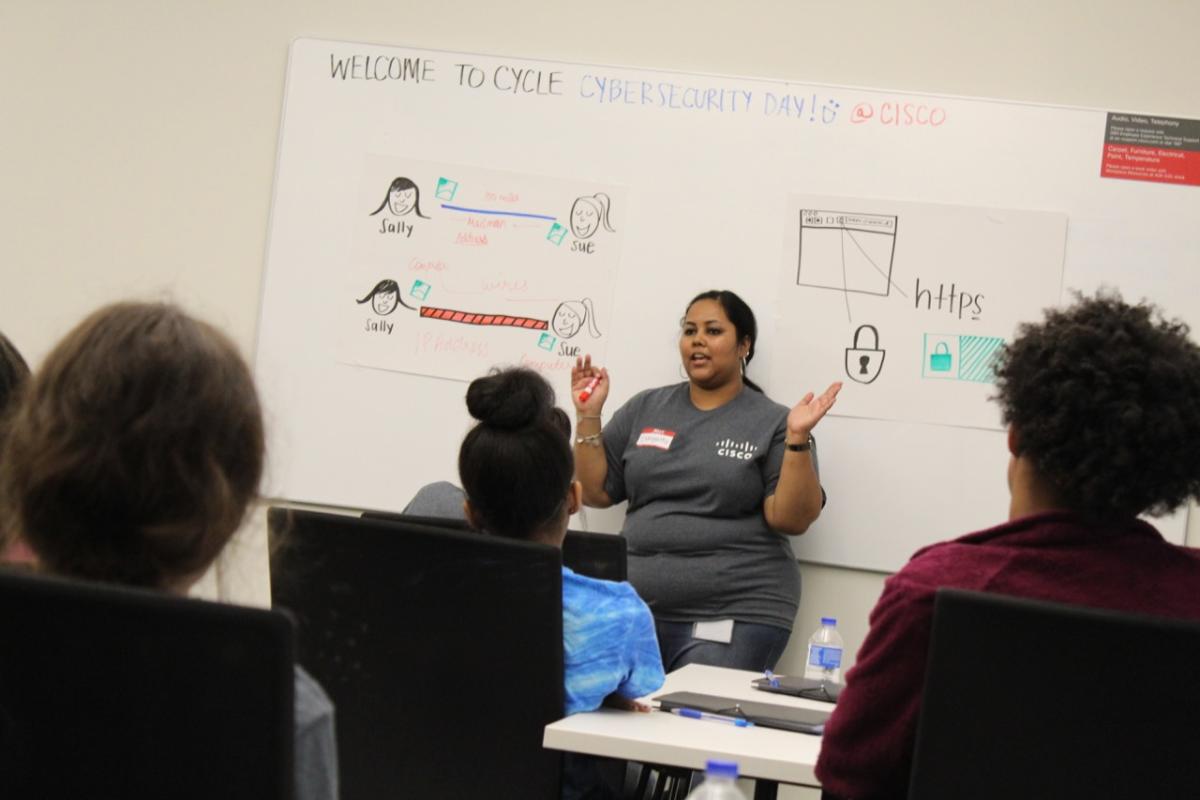 Forbes notes there may be up to 3.5 million unfilled positions in cybersecurity by 2021, giving the security industry potential to address diversity in technology as businesses look to fill crucial open roles now and in the future. That's why CYCLE is starting the interest as early as possible.
See also: Solutions to the STEM teacher storage
"We need more women in tech," says InfoSec Security Engagement Manager Stephen Jones, "Especially in cybersecurity. We see the CYCLE program as a pipeline—sometimes we're working with middle schoolers who may be a few years away from making a career decision. But we want to make sure they know cybersecurity is an option for them, and also a really fun, interesting place, with a lot of different jobs."
The group partners with other programs to find students to be involved, like the Girl Scouts of Northern California, the National Coalition of 100 Black Women, and more.
The CYCLE program has a lesson called "Keeping IT Clean" that teaches students seven good habits of cybersecurity, like "think before you click," "protect your passwords," and "log out of your accounts." After explaining each of the seven, the students are tasked to come up with a skit that demonstrates the habit in action.
Jones says the students are incredibly creative and have a lot of fun with the skits. Plus, he is often surprised with the insightful questions they ask.
See also: Celebrating STEM education
"When I suggested they download apps only from trusted app stores, one student asked, 'How can you trust those?'" says Jones, "I remember telling her that she could be a security researcher, because that's the type of question they ask. That kind of curiosity is amazing to see—it's something that helps makes someone successful in cybersecurity."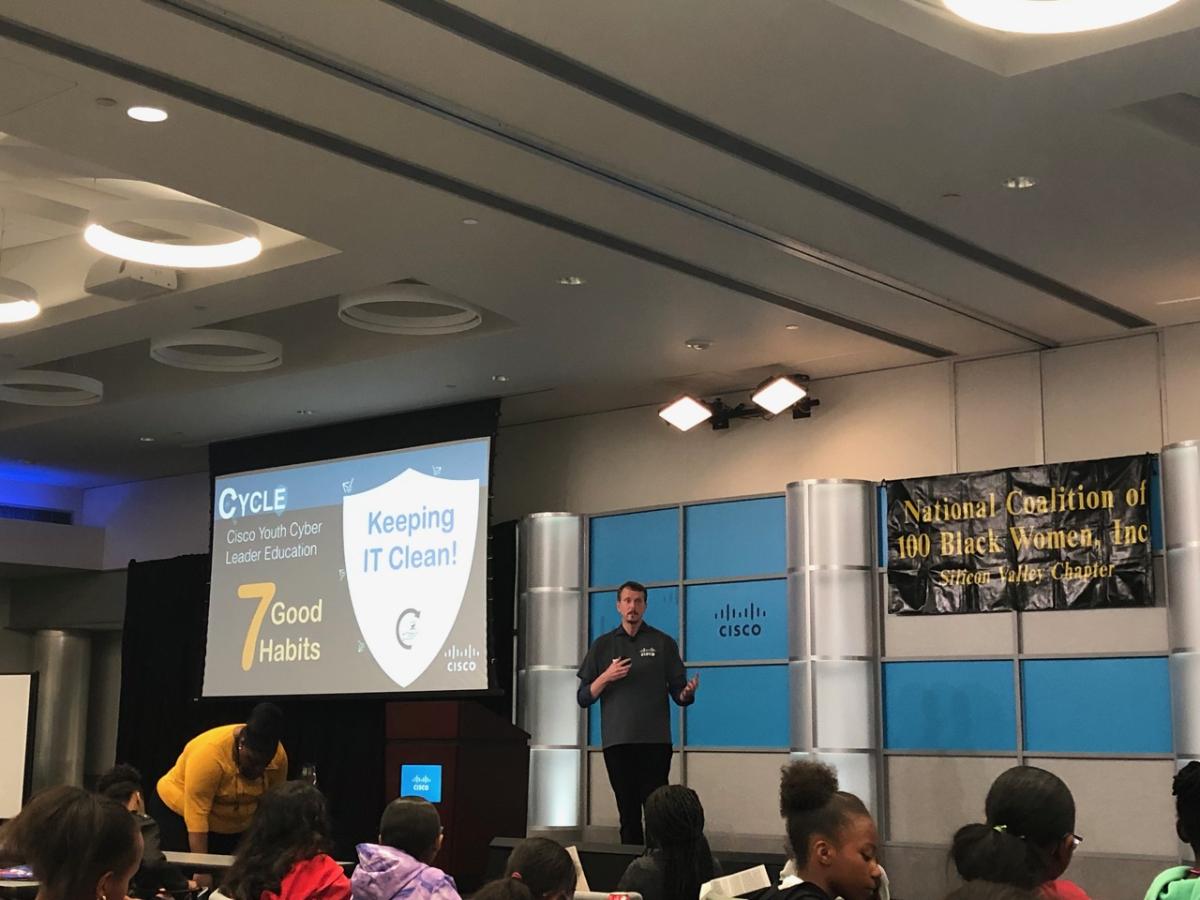 The lesson ends by telling students there are an array of careers open to them in cybersecurity, including security analysts, engineers, and architects, malware researchers, Chief Information Security Officers, and more.
The Women in Cybersecurity employee resource group has four focus pillars, the first being "Build a pipeline for the future." Cisco sees the importance of creating the best possible security teams who have diversity of thought and perspective. In John Stewart's 2018 RSA conference keynote, the Cisco Chief Security and Trust Officer imagined a world where people could make a collective impact on cybersecurity. Not only because it's right, but because it's also good for the business.
"Our adversaries are male and female, different ethnicities, different social backgrounds, and different nationalities," says Stewart, "That means they may have the advantage. We need to even that playing field to be safer, and there are numerous programs that can help to shift the balance to us if we only take action to make a difference."
For us to understand the bad actors in cybersecurity, we must come from all angles, and that takes all kinds of backgrounds and experiences. CYCLE and the many Cisco STEM programs help to create a future where this is possible.
###
We welcome the re-use, republication, and distribution of "The Network" content. Please credit us with the following information: Used with the permission of http://thenetwork.cisco.com/.