Can't believe it is already Friday again! Check out The Network's top stories of the week...
1.) Government and Cloud Computing
This new feature by Steve Wildstrom focuses on how the federal government sees great opportunties in cloud computing. How aggressive has your company been in moving IT operations into the cloud?
2.) Brazil's Bright Future as a Connected Economy
With the world's fifth-largest population, a galloping economy, and a thirst for technology, Brazil's potential to be a networked powerhouse cannot be ignored. Which do you think will be the top global hotspots in 2020?
3.) Cisco Study: IT Saying Yes to BYOD
On Wednesday, Cisco announced new survey findings that show many IT managers are not only saying yes to BYOD and mobility, but are embracing it. Cisco also highlighted 'Smart Solutions' for the enterprise and opportunities for service providers that can drive amazing and secure mobile experiences at work, home and virtually anywhere. Check out the news and watch a replay of the webcast below.

4.) New Cisco Blog Focues on Customers
The customer stories found in the Perspectives blog span a breadth of Cisco technologies, products, and services, and provide additional insights into Cisco business solutions. Read more from our customers as they share their Cisco experiences with you!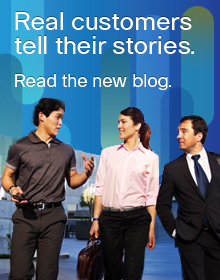 Check out what we have planned for next week!
Road Warriors - First to Ditch the Laptop?: Are laptops headed to the dust heap of history? By 2015, sales of tablets will surpass laptops, causing some observers to proclaim we've entered the post-PC world. Learn more about this new post-PC world on Monday!
Remote Experts Transform Customer Experiences: Bank of Montreal (BMO) launched a new "remote expert" service to ensure that all of its customers have access to relevant expertise, no matter where they are.
Have a great weekend everyone and check back on The Network daily for new Cisco and technology industry stories!